Makeup lovers get excited, because I'm telling you about an UNBELIEVABLE deal on my favorite IT Cosmetics products today! This is the perfect opportunity to stock up on makeup if you're already a longtime IT Cosmetics lover like I am, or to try some of these amazing products for the first time. Keep reading for all the details and score these IT Cosmetics deals!
Sale Details
A HUGE It Cosmetics MEGA SALE just started today!!! Now through March 31, 2020 you can get tons of IT cosmetics products for 48-60% off retail prices!
Here's the breakdown:
Bye Bye Foundation Moisturizer with Brush $34.98 (retail $87.50) 60% off!
Heavenly Luxe Complexion Perfection & Blush Brush Duo $35.20 (retail $82.50) 58% off!
Bye Bye Pores Anti-Aging Silk Pressed Blush w/ Brush $27.20 (retail $60.50) 55% off!
Hello Cheekbones with Hello Cheekbones Brush $34.40 (retail $84) 59% off!
IT Cosmetics Bye Bye Under Eye Concealer $26.40 (retail $51) 48% off!
IT Cosmetics Your Skin But Better CC Cream SPF 50 Duo w/ Brush $49.98 (retail $127.00) 60% off
IT Cosmetics Super-Size Brow PowerFULL Eyebrow Pencil pack of 3, $31.98 (retail $72) 55% off
Why I love IT Cosmetics Bye Bye Foundation
I didn't think I would ever find anything to replace my holy grail CC Cream, but I'm in LOVE with this IT Cosmetics Bye Bye Foundation. There are days (weeks even!) when I just want or need more coverage! This full-coverage foundation gives a flawless, airbrushed finish. After applying, allow a few minutes for the product to oxidize into your skin to really see the true benefits and final look!
I wore this foundation all day, in the humidity, during a long photoshoot and no joke it was still perfect afterwards! So if you're like me and LOVE the CC Cream but crave a little extra coverage sometimes, the Bye Bye Foundation might just be your dream come true. I'm wearing the color Medium Tan below, but when I have less of a tan I wear Medium!
This IT Cosmetics Bye Bye Foundation Moisturizer with Brush is more than HALF OFF retail prices!
This foundation with the brush rings up for $34.98, which is a steal considering the retail price for both would come to $87.50! And you only need about one pump of product for your whole face, which means it lasts forever.
IT Cosmetics Brushes
The KEY to any IT Cosmetics foundation is using their brushes to apply! Their Heavenly Luxe Complexion Perfection brush is my favorite way to apply both the CC Cream and the Bye Bye Foundation. I love the fluffier end to buff in the foundation and the smaller end to blend in around my nose or to use with concealer. If you're married to your beauty blender, just use it AFTER you apply with the brushes to stipple and blend! Truly, this product goes on WAY better with one of IT Cosmetics brushes.
Snag this duo that includes the Heavenly Luxe Complexion Perfection Brush and Heavenly Luxe French Boutique Brush right now for only $35.20 (retail $82.50)!
Bye bye Pores Blush
I've used this blush in this set in the past and always come back for more! The color I'm wearing is Natural Soft Pink, and I love that I can build it to a more berry hue winter and spring! It blends beautifully with the contour/highlight colors that we'll talk about next.
You can get this pressed blush with brush for $27.20, which is $60.50 if sold separately.
Hello Cheekbones Palette
The palette has two colors: a highlight and a bronzer/contour. I especially love that the bronzer is MATTE! When we contour, we want to mimic where the sun would naturally kiss our face and where our inherent hallows are in the bone structure. Last time I checked, the sun didn't give us a sparkly tan (unless you're Edward Cullen from Twilight!).
The matte contour will give a super natural looking pop of color while the highlight draws attention to the high points of your face! It's also formulated with hyaluronic acid (which holds 1,000 times its weight in water: HELLO HYDRATION!) and is talc-free so it will always be true to color in photos.
You can get this palette and brush for $34.40, which would retail separately for $84!!
Bye Bye Under Eye
The IT Cosmetics Bye Bye Under Eye Concealer is what dreams are made of as far as a dewy, glowy concealer that ACTUALLY conceals, and stays as long as you want it to stay! I feel like I look ALIVE when I put a tiny bit of this underneath my eyes.
This concealer is also waterproof so it really will stay on all day and it totally looks like I got 8 hours of sleep. MAGIC! I wear it in medium nude and I've tried like 6 different shades of this, but medium nude is my fave to brighten just a bit without looking like a raccoon!
This concealer is VERY THICK, but that's what gives it such incredible staying power. It's also amazing for covering up blemishes.
Right now you can get the IT Cosmetics Bye Bye Under Eye Concealer with Brush for $26.40, which would retail to be $51 for both items sold separately — seriously such an amazing deal!!
MY FAVE CC CREAM EVER
IT Cosmetics' CC cream has long been one of my very favorite foundations. It's basically skincare with a side of amazing coverage! It has seven amazing benefits, including a physical sunscreen, anti-aging serum, and buildable coverage.
The foundation really is so much better with the IT Cosmetics brush. The first time I tried the IT Cosmetics CC Cream I wasn't sure if I loved it. But then I saw someone with FLAWLESS skin and asked her what she uses! She told me the IT Cosmetics CC cream, but with a hitch–you HAVE to use their brush! Ever since I took her advice I've been a firm believer. If you've been wanting to try it out, now is the time to buy and get both for half the price and save big.
This CC cream is ON SALE at QVC for $49.98, TWO full-size bottles plus the Heavenly Skin CC+ Skin-Perfecting Brush – a value of $127! That's basically getting the brush and one of the CC creams for free!!! SERIOUSLY – if you're going to buy this CC cream anytime in the near future you're CRAZY to not take advantage of this deal!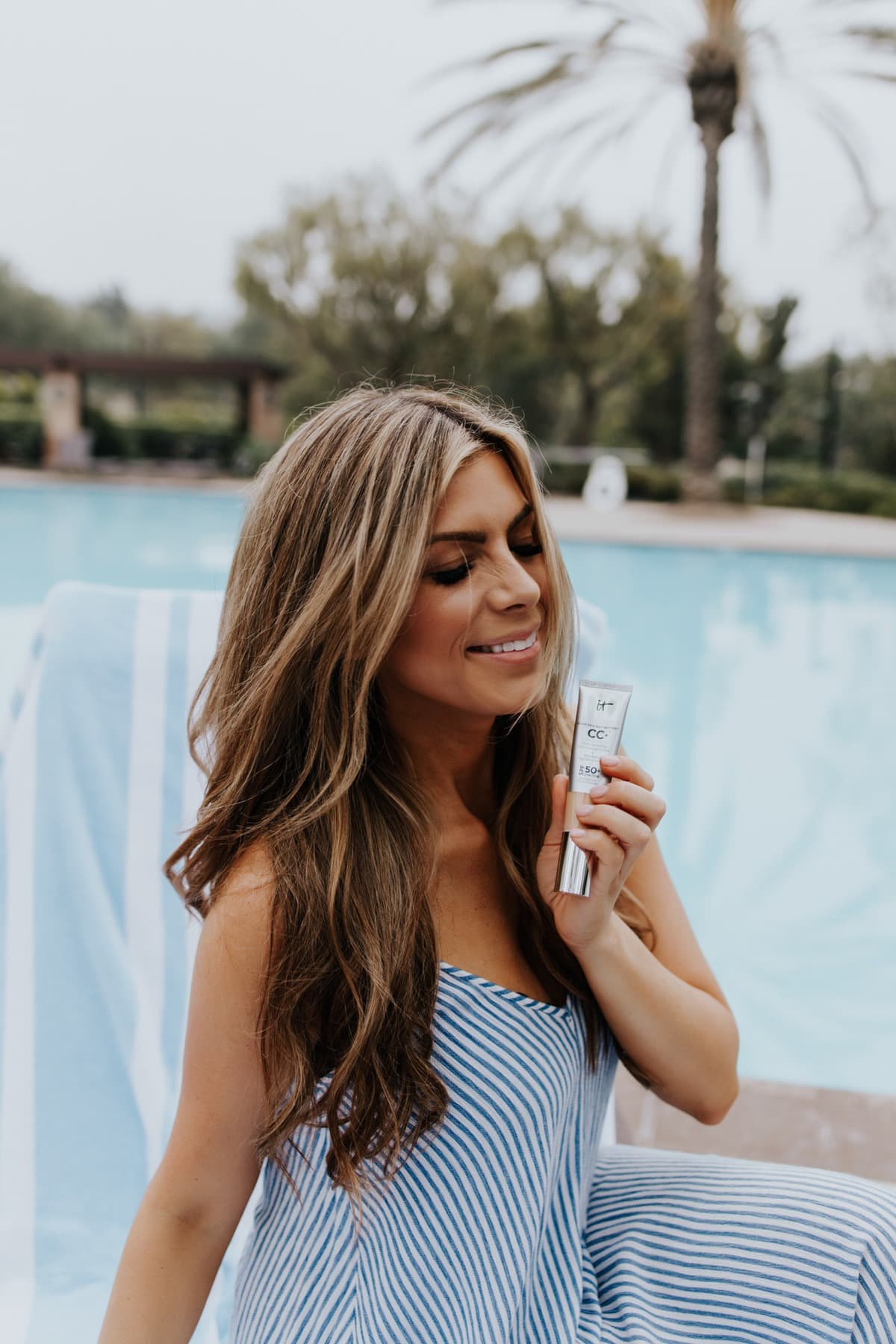 IT COSMETICS BROW POWER
This universal brow pencil is a great alternative to my Anastasia Brow Wiz! I love that the color can work for anyone and that it is buildable! It's super creamy so you have to use a light hand with it, but it's so easy to apply and gives great color pay off!
You can get three of these brow pencils for $31.98, which would retail at other stores for $72! This is a HUGE save!!
Don't miss out on this 60% off sale!
These IT Cosmetics deals are CRAZY good (48-60% off!!) and right now is the best time to stock up on high-quality makeup! Click on any of the images below to grab your faves and stock up while these insane prices last!