I'm usually pretty slow to accept new trends. Once upon a time (like 15 years ago) I said I would never wear skinny jeans. And now my dresser drawers are mostly full of them! I said highlights weren't for me. Now I'm a balayage addict. And so I'm trying to come around a little quicker these days with new trends, although this trend has been around for more than a week!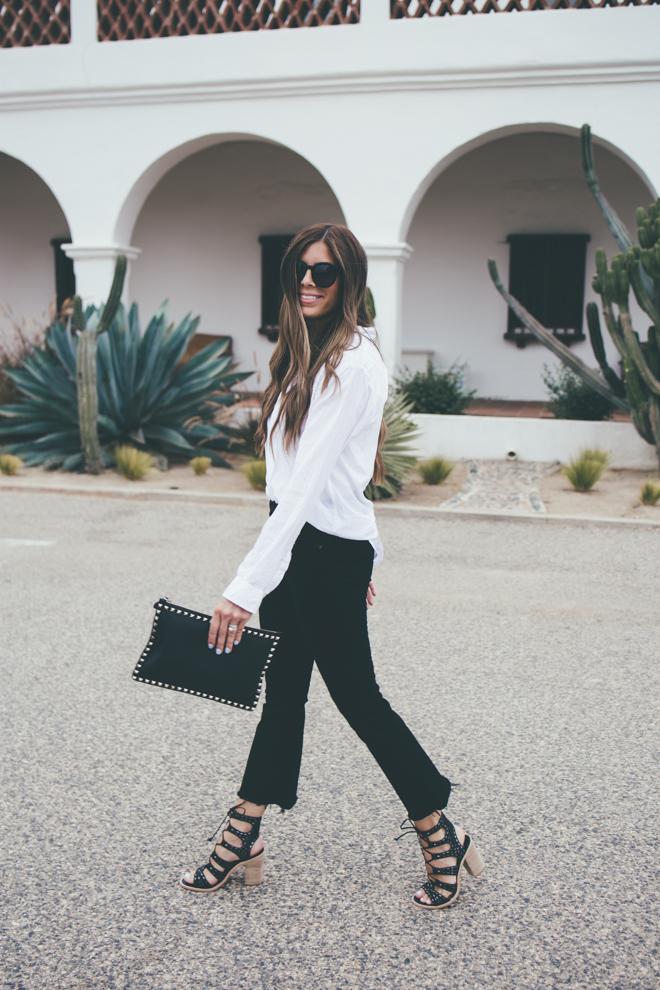 Cropped flare jeans.
This trend has more than intimidated me for a while now but I finally decided to tackle it, and with a few tricks up my sleeve, it's kind of becoming my new fave! Here are my tips for wearing cropped flare jeans.
My #1 tip for easing into cropped flare jeans is to find a shoe with a higher ankle to keep the flow going from the bottom of the crop to the top of your shoe. For some reason this just helps ease the awkwardness and looks "right" to me. Of course you can totally wear heels or flats that don't have a higher ankle, but this is my favorite way (so far) to tackle this trend. These lace-up embellished shoes were so perfect I had to jump on them! They're actually really comfy too which is always a huge bonus in my book.
My next tip is to tuck in a button-up shirt! This always makes me feel more polished and put-together so when you're trying out something new it's nice to feel like you're still in your comfort zone in 50% of your outfit, ya know?
This Current/Elliott prep school shirt is their most classic piece they've ever created and it will never change, go out of style, or come off their production line. It's the most perfect-fitting white button-up I've ever worn!
And lastly, find some cropped flare jeans that really fit your body well. I splurged on these cropped flare jeans because the fit was so on point! Extremely comfy, the perfect mid-rise, and really flattering on my legs. I always seem to find more than one pair of perfect-fitting jeans at Nordstrom. They carry all of my favorite brands and their debit card points just keep me coming back over and over. I have very little motivation to ever shop for jeans anywhere else because their point system is so great! I literally bought all of my Christmas presents last year for my entire family with my Nordstrom notes.
This was definitely a splurge outfit but I really wanted to show you guys my favorite way of pulling off cropped flare jeans. Come back tomorrow because I'll have another post on flares that's more of a save look (everything under $100) and a full guide of best flares for Fall!
Black Sunnies
White button-up top
Black cropped flare jeans
Black embellished lace-up sandals
Black clutch (sold out), similar