Have you guys been watching "Get Organized with The Home Edit" on Netflix? I looooove the stars Clea and Joanna and their ideas on storing "back-stock." I can hear your questions from here: "What is a back-stock?" Growing up in the Church of Jesus Christ of Latter-day Saints, our leaders often talked about (and still do!) the importance of being prepared! This means a supply of food, toiletries, money reserves, home gadgets and more! Anything extra that you don't need to use right now is considered back-stock.
This year I was ready to commit myself to creating a more abundant and organized back-stock! What got me started on this kick was actually my linen closet. There were things EVERYWHERE, including stuff I had forgotten about because I simply couldn't see it! Thanks to Walmart+, I'm able to replenish and organize my back-stock for the BEST prices!
Why Walmart+
First things first, have you guys heard of Walmart+?? It's Walmart's newest service that gives you everything from free grocery delivery to cheaper gas prices! It's only $98 a year (or $12.95/month) and you get INCREDIBLE benefits! Some of these include free shipping with no minimum purchase, same-day grocery delivery and the new Walmart+ scan and go! With this benefit, you can literally walk into a Walmart, grab as little or as many things as you need and then CHECK OUT ON YOUR PHONE without standing in line! This blows my mind; scan, pay and be on your way!
Walmart+ has saved me in so many ways, but it's been the backbone of my back-stock project this year! Between grocery delivery, in-store AND online shopping, I've been able to grab all my organizational tools plus all our household items FAST and for the BEST prices!
How to create a back-stock
You don't have to spend a ton of money to create a back-stock in your home. A great rule of thumb is to buy three of any one item: one for now and two for later! You can apply this to a pantry back-stock, toiletries, even the beginnings of a year's supply.
When I started my linen closet project, I knew that before I bought a bunch of stuff, I needed more function! So first I got this pack of 20 clear storage containers (for only $25!) and decided to go.to.town. The clear bins and rainbow organization (thanks Clea and Joanna!) have made it SO easy to see what I have and what I need! I began by going through what I had, what I needed, and what was about to run out. Then I bought three of the most pertinent things first and organized them in these clear bins!
What to include
Things I put in my back-stock: my girls' hair products (like this spray gel I swear by), sunscreen (you never know when a beach day will come!), toiletries, cleaning products, paper goods, hand sanitizer, anti-bacterial wipes, and diapers. And I can never have enough of Neil's favorite body wash (I HATE when he borrows mine when he runs out ha)!
Basically anything your family uses a lot, especially if it really puts you in a pickle when you realize you're out! I can think of a million scenarios like this: all ready to hit the beach but *BUMMER* you have no sunscreen and have to tack on another 20ish (more like 30-40) mins to do a "quick" sunscreen run before you go. Or you're talking about doing a fun little campfire with smores on a summer night but *ZING* you remember that you need insect repellent. Being prepared wipes out all these future buzz-kill moments.
ALSO, it's kind of the worst when you keep buying things over and over that you swear you actually already have at home, but you have no idea where they are. See how there are FIVE (count them – 1, 2, 3, 4, 5!!!!) bottles of the same-ish insect repellent in our back-stock? Each of those I've had to buy when we're on our way to an adventure where there might be bugs and I had NO IDEA where the flipping bug repellent was in the house. Now, I know where all 5 of them are.
A well-organized back-stock allows you to actually SEE what you have, and what you don't have! And it's so super quick and easy for me to re-order things from my Walmart+ app and have them appear on my doorstep LITERALLY a few hours later. No minimum. Just out of toothpaste? Only need a replacement bottle or two of spray gel or dry shampoo? DONE. Easy.
Grocery Delivery
Another bonus of Walmart+ is the free, same-day grocery delivery! Because tons of people aren't wanting to venture into stores these days, delivery services are on the rise. The problem is that most delivery services spike their food costs when you shop, and you don't even realize it until you're stuck with a massive grocery bill! Of course, there's something to be said for paying for the convenience, but sometimes paying more for items AND paying for a delivery service is just too much! One thing I know for sure (because I've experienced it!): you will never get up-charged with Walmart+, AND can always rely on the famous Walmart low prices! I don't know any other place that sells packaged goods for prices as low as Walmart!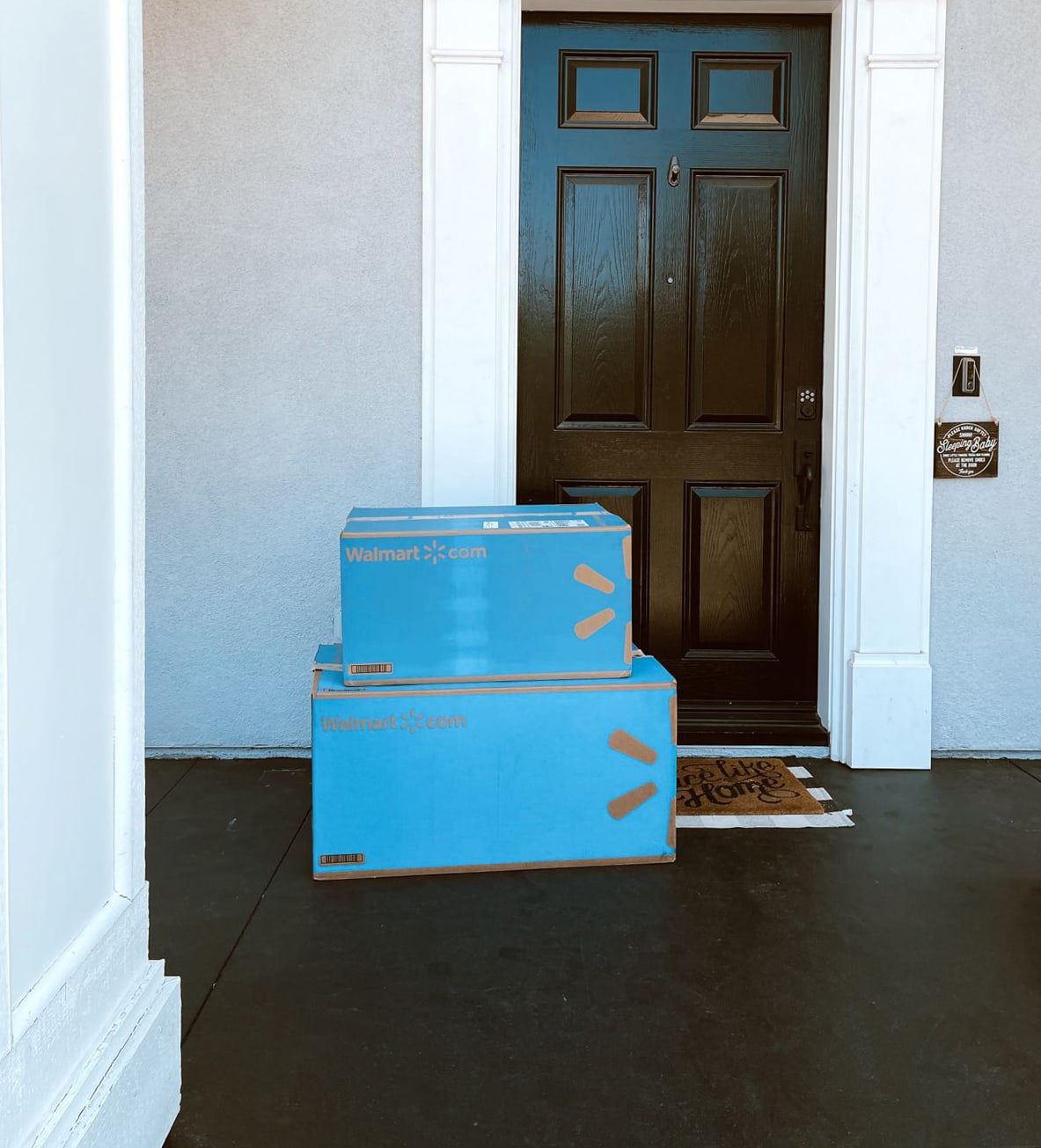 When we were in Florida recently, we used this service TONS for food, diapers, and any other necessities (it saved me mucho $$$ from buying an $8 A PIECE Uncrustable sandwich at Disney World when they were $5 for a 10-pack in my Walmart+ delivery!!!). Saves me time AND money, whether I'm at home or on vacation. Who wants to walk into an unfamiliar grocery store with a foreign lay out and search for hours for what you need? NOT ME!
Tip about tips: Usually I give the delivery person a 10% tip! I try to remember that the person delivering my groceries is just another person trying to make a living and the extra few dollars is always worth it to me!
Free Next-day or 2-day Shipping
Even though I've loved the grocery delivery, the thing I've used Walmart+ for the very most is the free next-day or two-day shipping! I've always loved ordering anything and everything on Walmart.com, but usually you have to spend at least $35 to qualify for free shipping. With Walmart+, there's no minimum: it all ships free and will be at your doorstep before you know it!
Last summer I was making some strawberry jam and realized I was out of sure-jell pectin (weirdly, hard to find) and mason jars. I went right to Walmart.com and added those to my cart, only to have to add some more random stuff to reach the free shipping requirement of $35. Now that I have Walmart+, if I find that I'm out of a pantry item, I can order it for free next-day or two-day shipping with no minimum!
This is the fastest shipping experience I've had with ANY company. Period. BOLD WORDS, but I can back them up! I have ordered something at 8pm, only to have it be on my doorstep the next day by noon. Not just once, not a fluke. This KEEPS HAPPENING! Obviously it's different depending on where you live, but this whole situation has been blowing my mind!
More of what you need, FASTER!
Doing this overhaul with Walmart was the most affordable and easiest way to create my back-stock! $25 for 20 clear, stackable, perfect sized plastic bins and a sharpie will have you on your way instantly sorting the stuff you already have, and will allow you to easily see what you need extras of too!
You don't even need a closet with shelves for this. You can do this in a cupboard below your bathroom sink or even at the bottom of your closet!
It seriously brought me so much peace of mind to know that in the event of a disaster, we have enough necessities to keep the household running for awhile! It's so easy for me to go into my back-stock once a month or so and see what we are out of or running low on and quickly place a Walmart order and not think about it again!
And if you're in the mood to organize even more, here's a few additional super cute and functional organization faves I found while perusing walmart.com.
If you decide to tackle this back-stock project, share it on instagram and tag me so I can re-share you too!