It's cooling down and fall's officially here, which means one thing… LEGGING SEASON. Nordstrom always has the cutest, high-quality staples all year long, but their SPANX faux leather leggings have to be one of the absolute best items they offer, period. They're definitely the best pair of leggings in our closet!
If you've seen these leggings around for years but aren't sure how to style them in 2022, we've got your back! We found the cutest new items to go with them, and we're also gonna give you the 411 on why faux leather leggings are going to become your very favorite thing for alllll the cooler months ahead.

The SparkNotes? If you want to be comfy, confident, and super on trend all at the same time, you might want to add these leggings to cart ASAP!
In a hurry? Shop our picks below:
Are faux leather leggings in style in 2022? Definite YES!
Yes, they are! There are actually so many cute, trendy ways to style these leggings this season including blazers and oversized button-downs, but we'll get into that more in just a sec. But yes, faux leather leggings are totally still in style, especially with these trends that have come into play this year.
Are faux leather leggings comfortable?
Yes, they're super comfortable! They're not as flexible as your workout leggings – they're definitely a dressier, compression legging. But they still are insanely comfortable and easy to move in, WAY more comfortable than jeans/real leather pants, and they're very stretchy.
In fact, that's why we LOVE these specific faux leather leggings over others because they have such a nice stretch + smoothing form to them with a nylon/spandex fabric better than all others. They'll fit you like a glove, and make you feel two sizes smaller with their tummy-slimming, elastic waistband! Talk about a flattering silhouette from your hips to your ankles.
Are faux leather leggings warm?
Yes, they're warm! These are perfect to wear on a date night for fall or winter, or when you're out and about, but they're probably not the best to wear in a snow storm you'll be sitting in for hours – like a white-out football game for example. But if it's just a chilly fall or winter night these keep the perfect temp!
How to style faux leather leggings?
There are so many popular ways to style these faux leather leggings! Here are some ideas that are trending right now other than pairing them with an oversized sweater:
This black t-shirt bodysuit has a perfect mock neck and it's super chic paired with a blazer. Blazers are an IT item this year and they can have a dressy OR casual vibe depending on your shoe choice. We love how this blazer is oversized so it's actually the perfect thing to pair with leggings because it covers everything back to front. It's also a super flattering fit on any body type! AND the pockets are super convenient since the leggings are pocket-free.
To make the outfit a little more casual we added these cute Doc Martens, but if you wanted to dress it up you could add some heeled booties.
Casual, everyday outfit
We also paired these faux leather leggings with a giant oversized white button down shirt. This look has been all over social media this year and can literally be worn to almost ANYTHING. Date night. Grocery shopping. Football watch party. If you're a minimalist and looking for comfort this is totally the way to go, and the Doc Martens are perfect to pair with this outfit as well!
All in all, these are great staples to mix and match so you can create the cutest outfits this season!
How to wash the faux leather leggings?
These are machine washable! No need to hand wash.
Machine wash faux leather leggings inside out in cold water on the gentle cycle and lay flat to dry to maintain their shine (the polyurethane coating!).
What size should you get in the faux leather leggings?
These leggings run true to size in our opinion, but if you're in between sizes, definitely size up! They WILL feel a little tight when you put them on, but they're definitely supposed to be form-fitting. You'll love how flattering they look! They have a pretty good size range from XS petite-XL.
What shoes do I pair with these faux leather leggings?
The Doc Marten combat boots are a staple pair of shoes that look so cute with these faux leather leggings and almost any top. The chunky, platform shoe is such a huge trend this year, and it's super flattering on your legs, ankles, and calves as well.
BUT these leggings would look super cute with really any type of boots, heels, or even sneakers and an oversized sweatshirt. You can dress up or dress down these leggings depending on what shoes you choose to pair with them!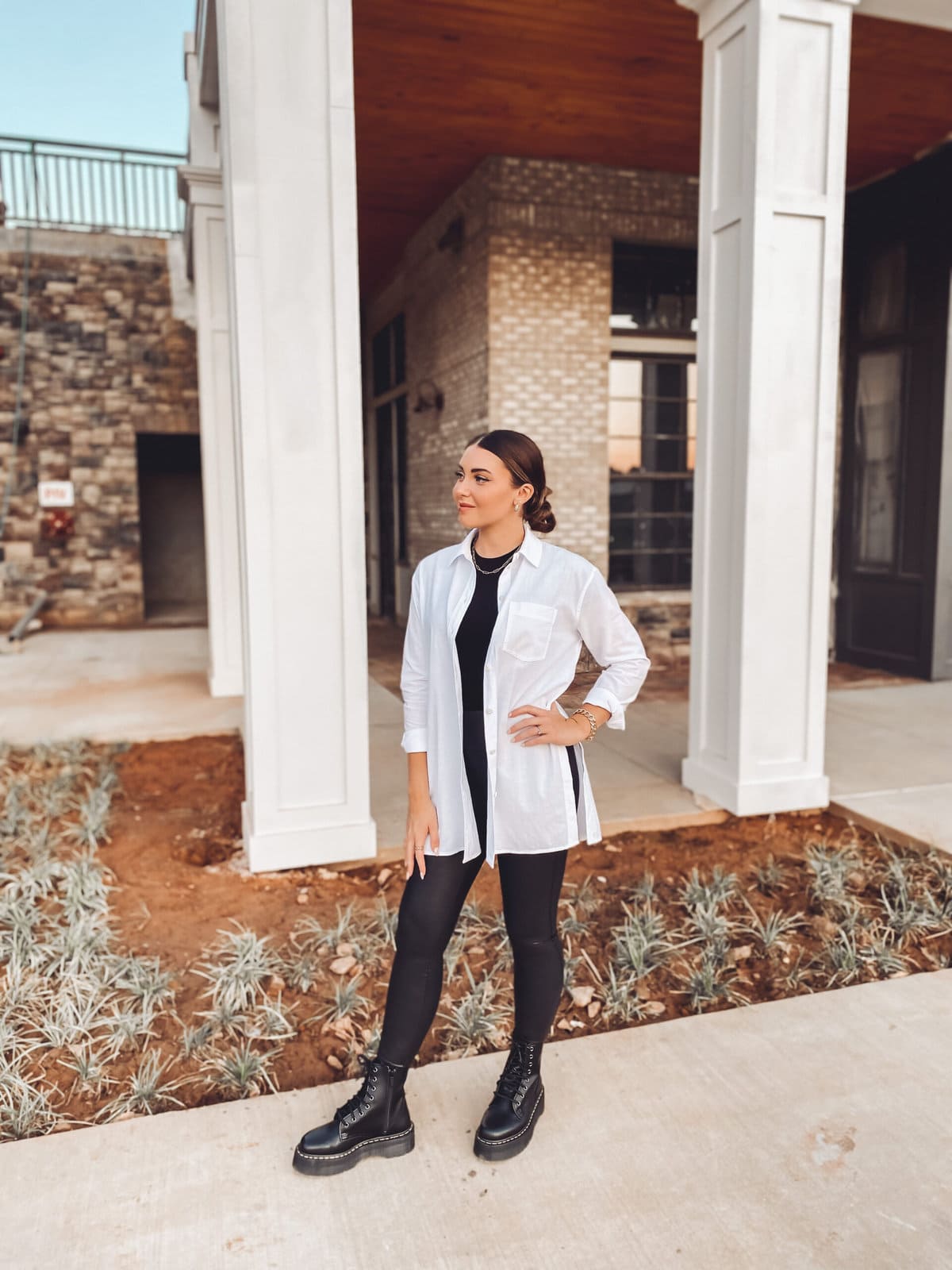 Shop at Nordstrom because loyalty gets you far!
When it's time to shop, Nordstrom's loyalty programs + services are hard to beat! Shop this pair of leggings + all the BEST trending ways to style them, and also enjoy:
Reserving items online, trying on in store
Curbside pickup
Free shipping/returns
Free alterations
Rewards – earn points and Nordstrom Notes
Beauty and Style Workshops (and gifts!)
Amazing customer service

Faux and MORE!
Nordstrom always has the cutest wardrobe staples all year long, and we've been especially excited for this year's top picks. From the very best faux leather leggings on the Internet to blazers and boots, we've rounded it all up down below! Enjoy!