I love love love this part of my job. The part where I get to let you in on secret discounts so that you don't pay full price for the stuff you've been wanting but waiting to get until you find a deal!
And TODAY a designer discount just kicked off for one of my favorite designer brands! If you've been waiting patiently for a deal on a designer Chloe bag, this is definitely the best deal I've ever seen on one! Super rare and so perfect if you were wanting one anyway or if it was on your wishlist for Mother's Day.
Deal details
Right now you can get the Chloe Medium Marcie Crossbody bag and Medium Marcie Satchel for 20% off, which will save you $350-450 on two of my favorite super high-quality designer bags!
You can also get that same discount on those two bags in the mini versions, the Chloe Mini Crossbody and Chloe Mini Satchel and save $170-$260 on them!
Chloe Marcie Medium Crossbody Bag
My love affair with the Chloe medium crossbody bag is REAL! It's the perfect medium size to just carry around your wallet, sunnies, lipgloss, phone and keys. Today you can get this bag for $350 off the regular retail price – best deal I have EVER seen on a medium Chloe crossbody!!
You can also get the mini crossbody for $178 off – also best deal ever!
Chloe Marcie Medium Satchel
Okay now THIS Chloe satchel was one designer bag I wanted for YEARS and Neil gave me as a Christmas gift a couple years ago. I'm so in love with the color and the size! If you've been considering taking the plunge, NOW is the time to do it — you won't regret it, even if it's the only bag you ever buy again! Get this bag for $450 off retail today – truly THE BEST and biggest discount I've ever seen!
You can also get the mini version for $258 off!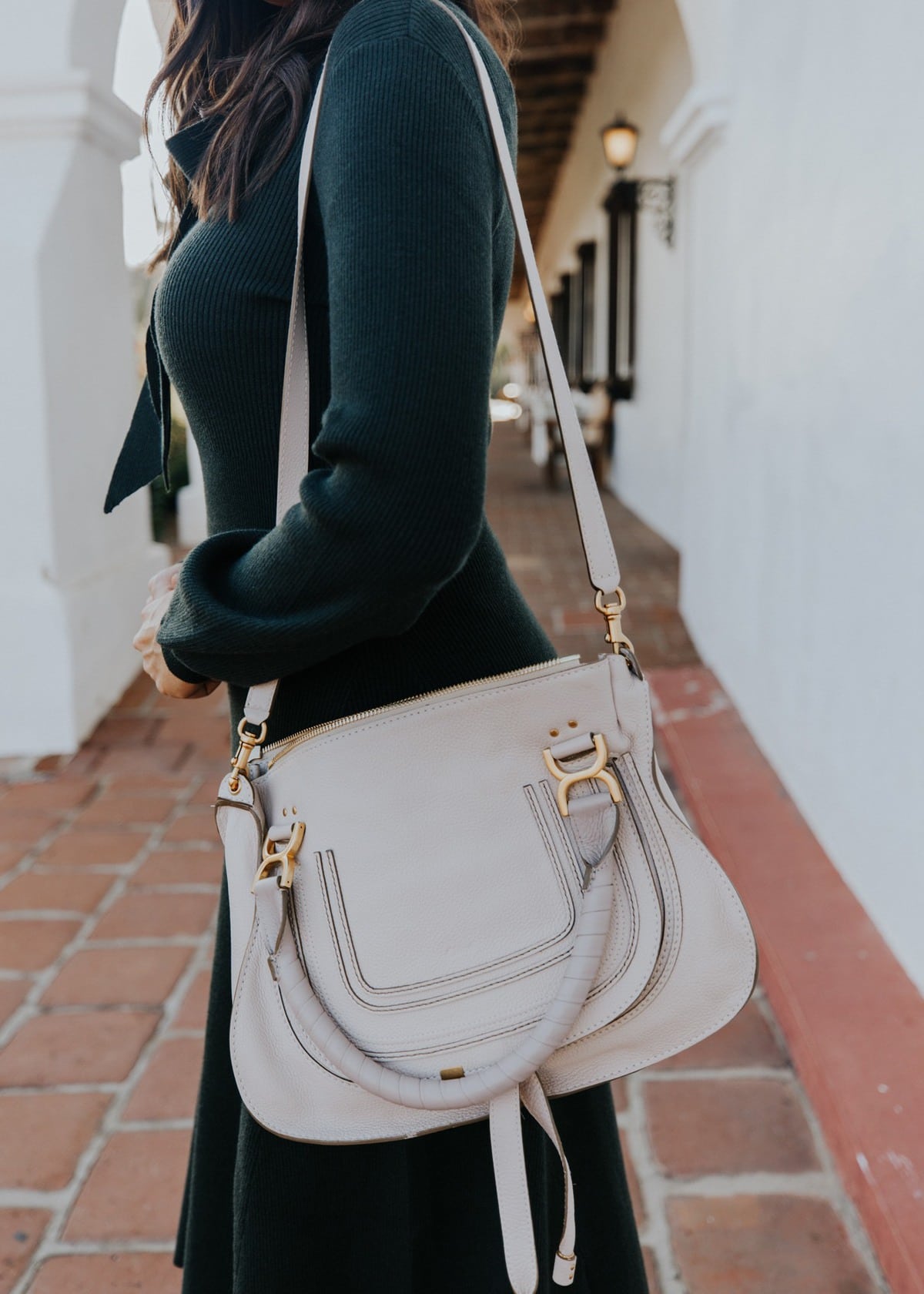 A designer bag dream come true
If you were planning to get one of these bags anyway, make sure you don't miss out on these Chloe designer bag deals for 20% off! These quality designer bags will last you years and years, and are staples in my wardrobe and I know they will be in yours too!! We've rounded up all the Chloe bags that are 20% off right now below for you to see easily all in one place.