For years I have wanted to collaborate with Kohl's on a Christmas tree campaign because Kohl's has been my go-to destination for buying the cutest, most adorable Christmas ornaments at very very affordable prices! During the holidays we have three Christmas trees in our house and I love being able to switch up the theme of at least one tree yearly. Kohl's allows me to do exactly that WITHOUT breaking the bank! And if there are just two things we need in this wild ride known as 2020, it's all the Christmas magic possible, but at an affordable price.
Today I'm sharing this year's whimsical beachy Christmas tree, and 6 other tree theme ideas, along with a special savings code so you can deck your halls for even LESS!
Seas and Greetings
We live in a beach town in California and I thought since we are staying here for the holidays this year that it would be so fun to have a beach themed Christmas tree! I've seen very similar merman and starfish ornaments to the ones I got at Kohl's, for 2-3x the price at upscale retailers! When you're buying ornaments for a big tree, those price tags add up FAST. Being able to get ornaments from Kohl's that were the same high-quality and same cuteness for a fraction of the cost was HUGE.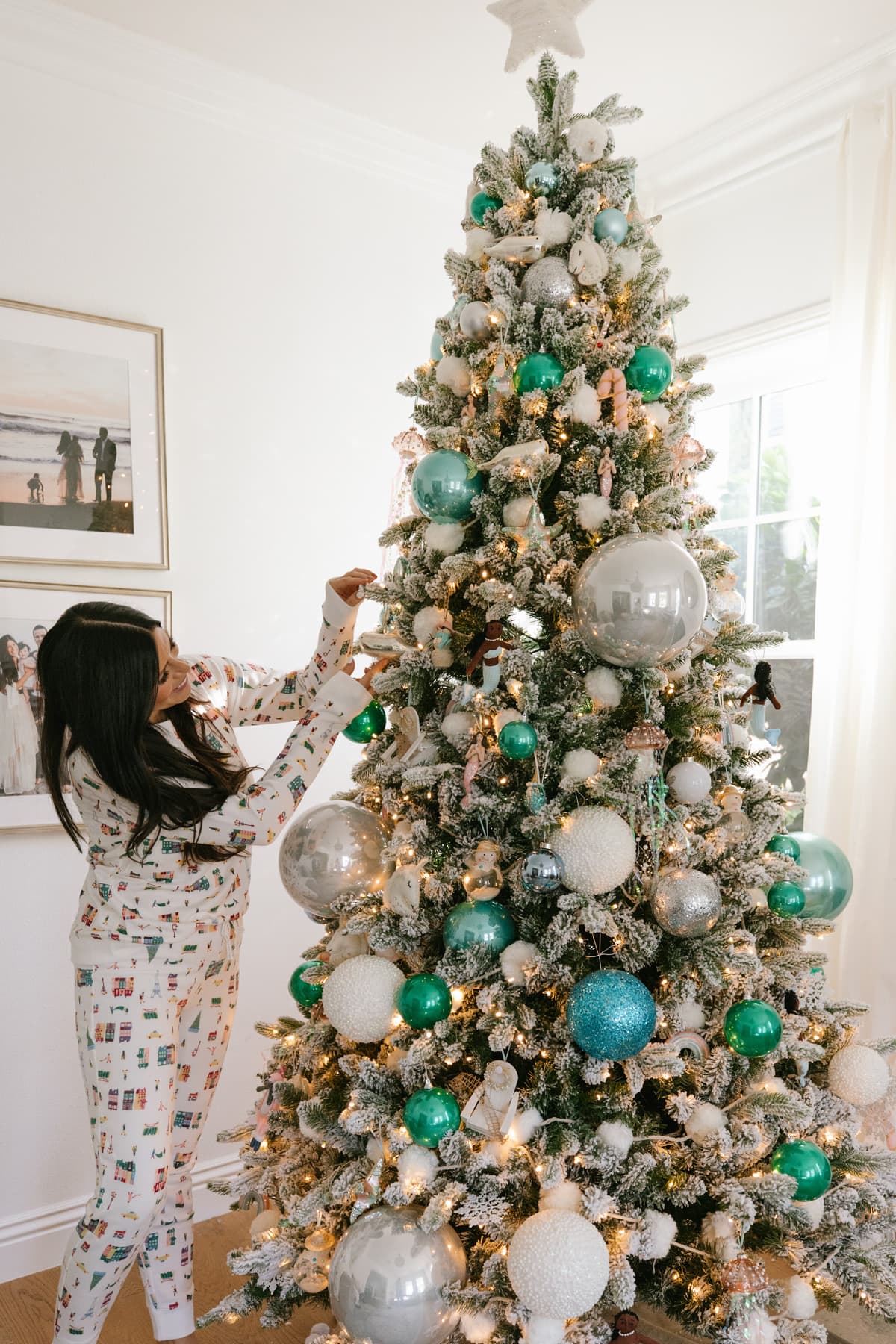 Fa-la-la-la-15% off savings
Kohl's is the BEST at making things even more affordable by offering generous savings codes! Today through Friday, November 27th you can take 15% off your Kohl's order using code THANKS at checkout! You'll also earn $15 Kohl's Cash for every $50 you spend!
All of our new beach and ocean themed ornaments were already affordably priced UNDER $15 (and many were under $10). Add on the 15% off code at checkout and most are now $5-$7!
Thanks to Kohl's really affordable prices, we felt like we could commit to our theme and deck our halls while keeping this mom's wallet happy. We would not have been able to do this with other retailers that I love-we probably would have had to choose just one or two new ornaments.
Reduce, reuse, recycle
NOTHING brings Christmas magic into your home quite like an evening spent decorating the tree as a family. When we decorated the tree over the weekend, we repurposed some gorgeous, BIG bulb ornaments that I purchased a few years ago. Reusing larger, neutral ornaments from previous years helps make themed holiday trees an affordable Christmas treat.
TIP: If you have or can find some really good big ornaments like these or these to stick on your Christmas tree, that's going to help so much with the overall look. It helps to give your tree depth and variety when you mix shapes, sizes and textures!
A unicorn for Christmas
My big girls talked me into adding some unicorns and rainbows to our Christmas tree. I thought this was totally appropriate because there is ALWAYS room for a little extra magic and happiness! Unicorns and rainbows always have a place in our home. I love how many rainbow themed ornaments Kohl's carries.
A Tree-mendous Christmas with Kohl's
Kohl's has so many super super cute and super beautiful ornaments to choose from that it was really difficult to settle on just one theme. And since I don't think Neil will let me have anymore Christmas trees at our house, I'm sharing a few more tree themes I considered below! Don't forget to use code THANKS at checkout for 15% off your Kohl's holiday purchase.
Costal themed ornaments
Classic themed ornaments
Kids themed ornaments
Lodge themed ornaments
Novelist themed ornaments
Rainbow themed ornaments
Cozy themed ornaments