It's summertime and the backyard living is fiiiiiine! Outdoor living spaces are kinda my thing, and having a space to chill and send my kids is my favorite! When I was first trying to create a functional backyard at our old house, I knew I wanted greenery, lights, shade and somewhere pretty to sit. I LOVED this space so much because even though it wasn't huge, we really were able to utilize every inch for us and the kids. Today I'm sharing all of my tips and tricks I've used to make our backyard at our old house and our current house a summer oasis.
Patio furniture
I feel like patio furniture is a dime a dozen, but finding something comfortable that is weather proof AND aesthetically pleasing is not very easy! I was so excited to find this set that is totally customizable with the layout. You can push the two sections apart or move the ottoman pieces to create larger seats! The cushions are totally durable, but they are also smooth and comfy, unlike most outdoor furniture.
I also love how neutral the color is. You can even add colorful accent pillows to switch up the look at anytime! We loved this patio furniture so much at our old house and used it super often.
Pretty pergola
Pergolas are such a fun way to add architectural interest to your backyard, plus it differentiates a seating area for gatherings with friends and family. I loved the wood accent with the rest of the neutral furniture, it gave such an organic vibe to the yard. Plus it's the perfect place to add little lights!
Planters
Adding a pop of greenery and color to the otherwise simple space will really bring your backyard to life! I love the finish on this planter and love that you can change the plants for a new look as the seasons change. The exact one pictured below is sold out, but here's a similar set.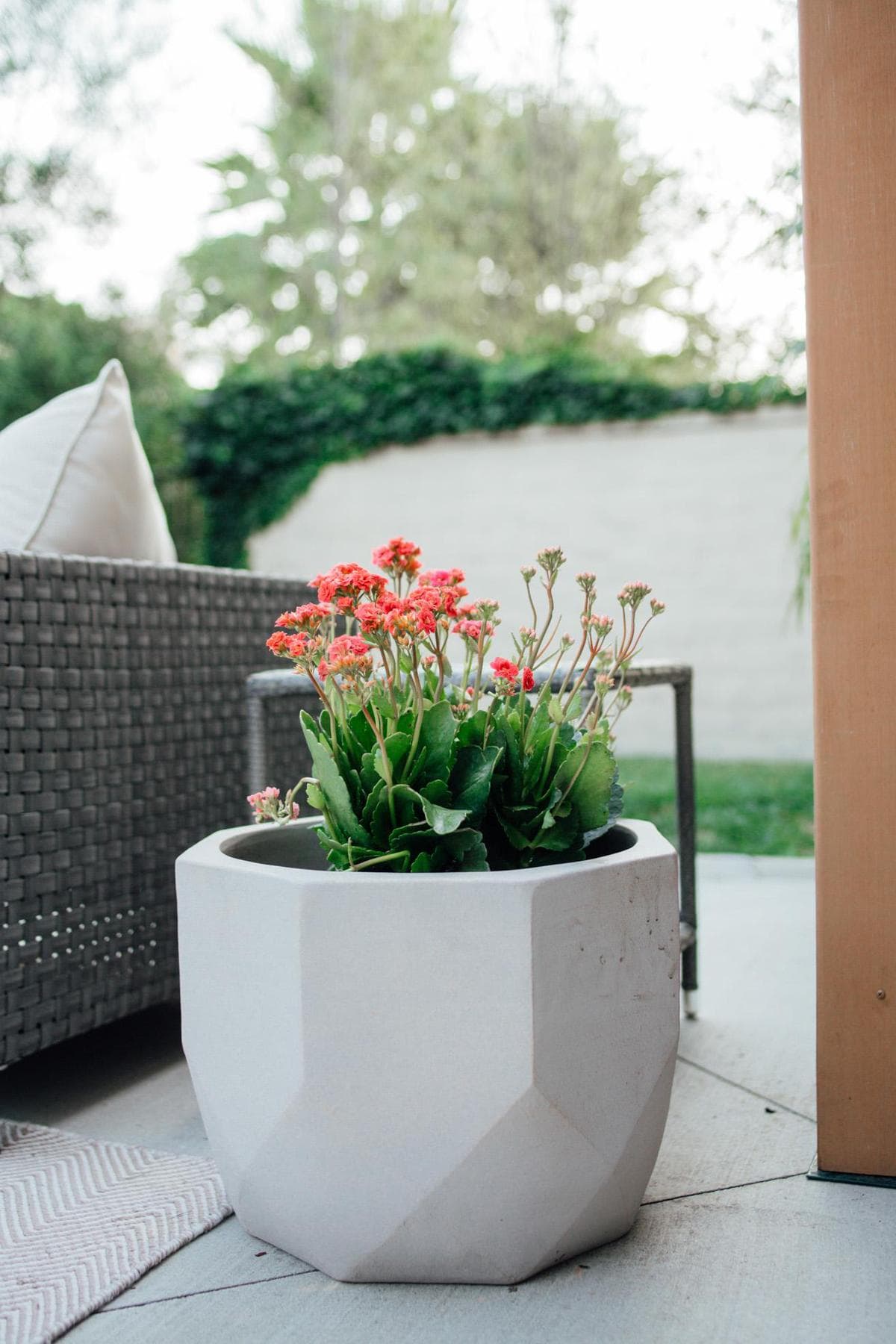 Can I confess the best part about these wicker planters? They were taller than Winnie haha! Our dog loooooves to get into trouble every once in a while and has a great time tearing through our backyard! I love having some pretty planters and flowers she can't get to! Win win.
Add some twinkle lights
Twinkle lights were the thing I wanted most in our old backyard and every time I saw them they made me so happy! They were the perfect finishing touch to the entire backyard look. They seriously add such a magical touch in any space!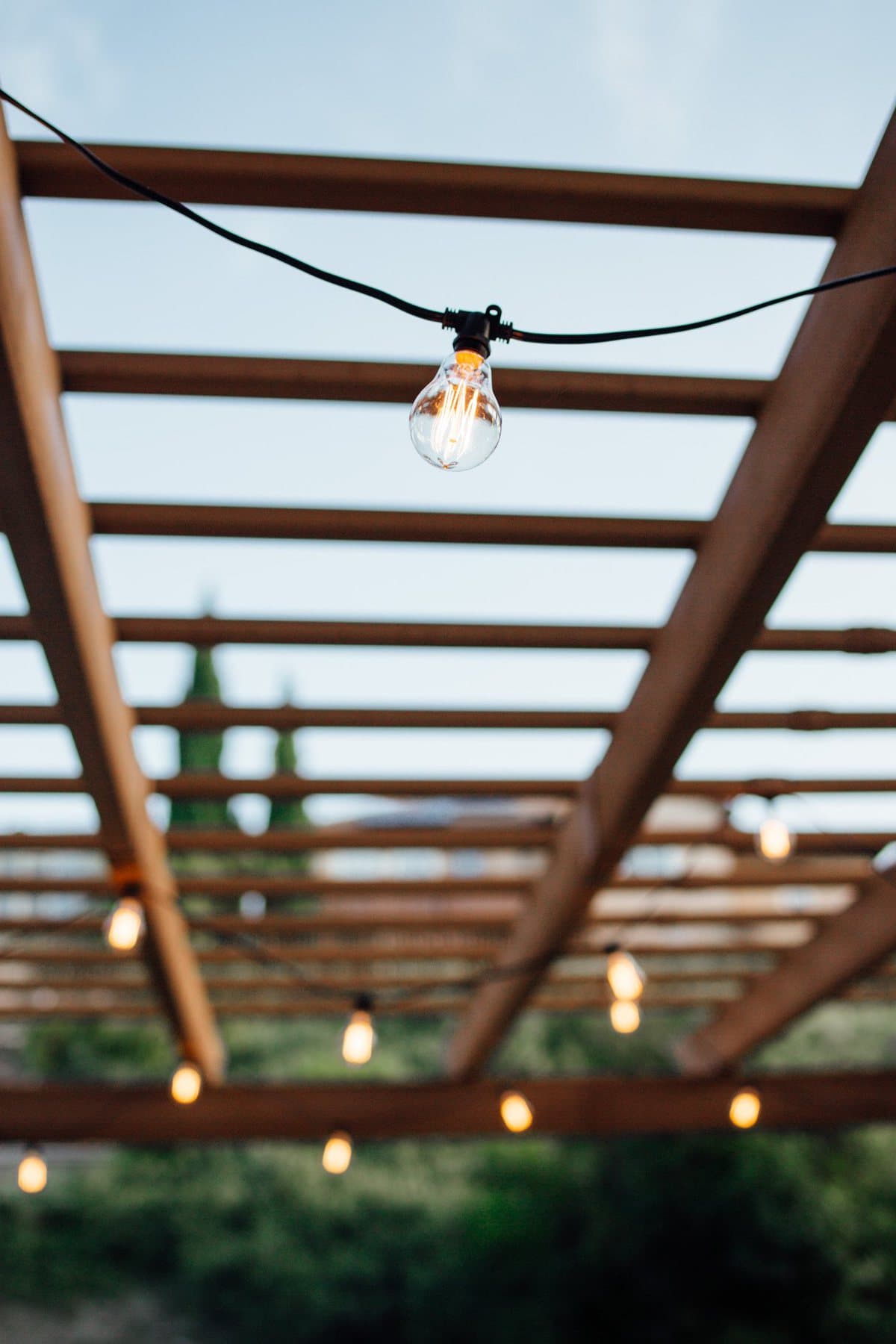 "Umbrella, ella, ella"
If there's such a thing as nautical-feminine-chic, these umbrellas are it! The scallop edges play off the crisp white and navy in the best way. AND they give our current yard some much needed shade! These are currently on sale for 50% OFF too!
Traeger
Our current backyard wouldn't be complete without our Traeger grill! This is one of Neil's favorite purchases of all time, and we all reap the benefits. I love that we don't heat up our oven as much in the summer and still have a delish meal. AND that Neil can (happily!) be in charge of cooking meals for us too! Head here for some of our favorite Traeger recipes.
Sectional, similar for less
Pergola
Wicker Square Planter
Concrete Planter sold out, similar set
DecMode Fiberclay Planters
White pillows sold out, similar
Grey pillows sold out, similar
Striped pillows sold out, similar
Garden stool side table
Chairs
Wicker side table sold out, similar
Lights sold out, similar
Umbrella 50% off, similar for even less
Traeger grill
Indoor/outdoor rug
Living that backyard life
I feel like backyard spaces can be nostalgic, because getting to play out back is so reminiscent of childhood! I love that I get to create a space that will work perfectly for me and my whole family. We love getting to spend time outside, especially in the summer. I can't wait for many more evenings spent enjoying some fresh air!