I'm in denial that summer is almost over and we're getting ready around here to send our kiddos back to school! Shopping for back-to-school is exciting, but it's honestly always been a little trickier for that tween phase. That's why I love shopping at Hollister – so many great options for tweens, moms(!), and everyone in between! 
Fun fact: I once was a Hollister employee! It was my first retail job ever in college and I learned all kinds of important lessons during that time from learning how to board-fold a t-shirt to how much time actually goes into making the storefront displays look nice. Hollister will always hold a special place in my heart because it taught me a lot of good work lessons AND you can always find cute things for your tweens (or you!) because of the great sizing, quality and price! My daughter, Ani, and I went and shopped the sale yesterday and I'm so excited to share some of our tween + mom favorites.
Slide to see all of my fav picks:
SALE DETAILS
Hollister has so many great options with super great prices, especially if you're trying to stock up for back-to-school wardrobes!! Right now they're having an insane sale!!! Here are the details:
Right now they've marked down ALL THEIR JEANS to $25!
AND
40% off almost everything else in the store!!
But which jeans should you get? In case you don't have time to go try them all on yourself, we did the hard work for you and figured out the favorites of my tween daughter for teens and tweens, and moms like me!
TWEENS
Ani tried on tons of different jeans and this low-rise light wash heart patched flare jeans were a #1 favorite for her! These are definitely a younger looking style and they fit so cute on her. These jeans are only $25 right now!! Originally $64.95. Amazing. With that price, it's the perfect opportunity to stock up on all the jeans for fall!
Ani tried on hoodies, graphic tees and a few sweaters she loved for the new school year! Hollister offers so many cute options for your tweens depending on what their favorite styles are. My daughter feels most comfortable in clothing that covers her body rather than wearing cropped tees, so the hoodies, sweaters, and graphic tees are her jam and there's a ton of options there!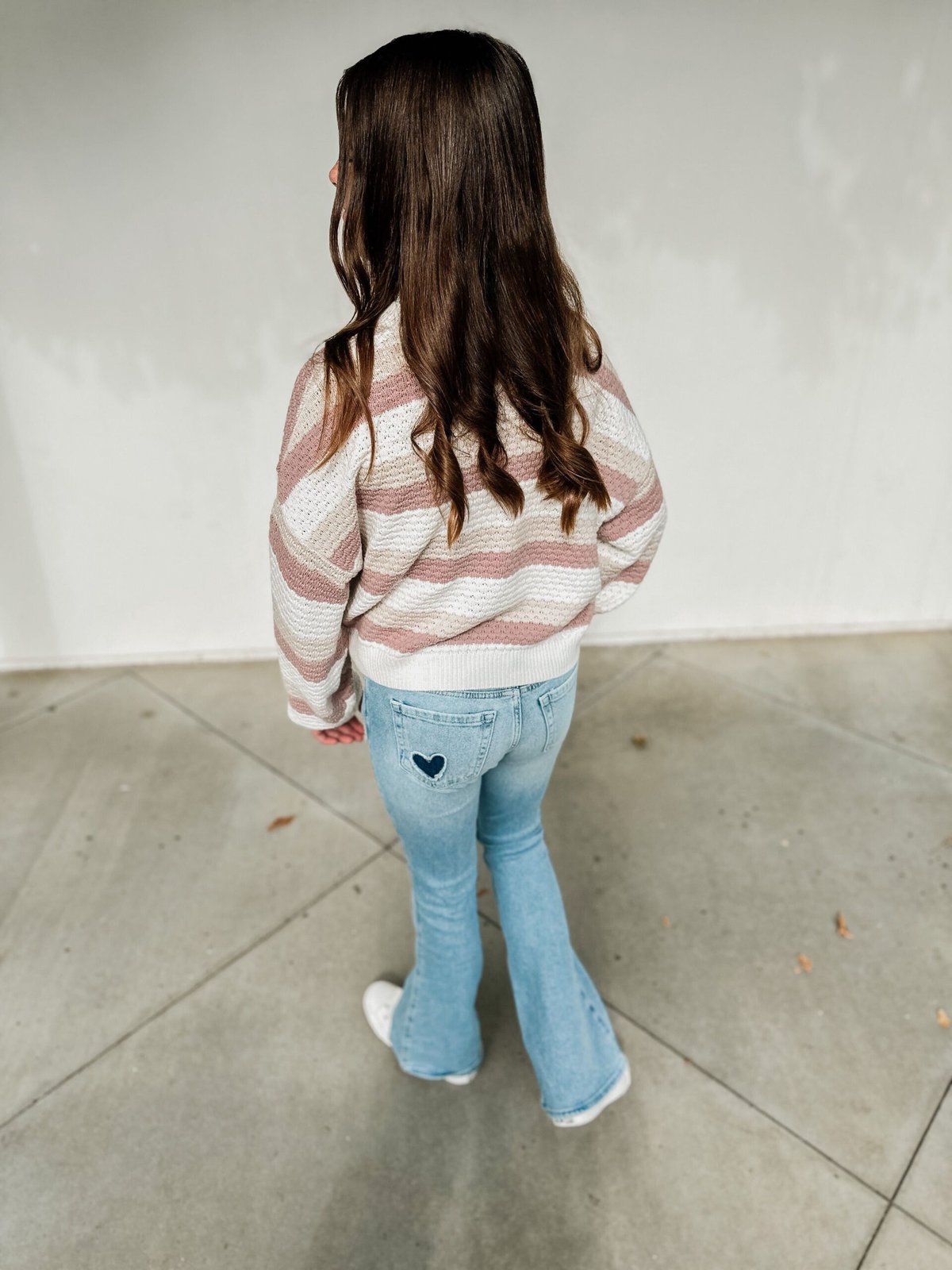 MOMS
Hollister is even a great place to shop for moms! I tried on every single style of jeans there yesterday just to figure out which ones fit my post 5 kids-body best and these ones were a definite winner!!
These jeans are the ultra high-rise dad jeans in a light wash and I fell in love with how they fit and how comfortable they are. Not to mention how insanely affordable they are! These are on sale for $25, and they're originally $54.95!!
I also got this really cute graphic sweatshirt! I'm not exaggerating when I say how ultra soft all of their sweatshirts are. That's another thing I really love about all of Hollister's clothing is how superDUPERsoft so many of their sweaters and sweatshirts are. And on top of that, everything is extremely affordable.
Mom + tween shopping date!
Back-to-school is approaching fast and you can check off your school wardrobe list at Hollister during this insane sale! Perfect for a mom to take her tween daughter and go get some back-to-school clothes and have them affordable enough to buy a pair of jeans for herself, too! Win-win!