Quick version: these are the BEST gifts under $20 this year! Scroll below for one list for women, one list for men.
One of the trickiest things about Christmas shopping is staying under budget! It's so easy to want to spoil the people we love. Whether you're looking for items that won't break the bank, stuffing stockings, secret Santa ideas, or looking for one final little thing for that hard-to-shop-for person, we have TWO lists of 20 Christmas gifts under $20 – one for women, and one for men. You're sure to find something that's just right for the person (or people) you're buying for this year!
Women's Christmas gifts under $20
Geometry Towels: Okay, these really are some of the BEST towels ever. They're super absorbent, they're soft, they're really high quality, and they come in SO many cute styles and patterns! Oh, and they last FOREVER. Seriously, a Geometry towel is one of the best gift ideas for the women in your life. Use code MINTARROW for 35% off through 11/23 and 15% off after that!
Sunglasses: Boujee but on a budget! These cat eye sunglasses are so sleek and only $15.
Red Aspen Nails: These press-on nails have completely changed the game. Red Aspen Nails are NOT your middle school grocery store brand press-on nail purchase. These stay on for 14+ days, and they have the very cutest designs, too!
Makeup eraser: Easily one of the coolest inventions ever – a reusable makeup ERASER! Add water and wipe off 100% of your makeup (even waterproof makeup) with NO other solution. Say goodbye to paying for makeup remover and spend just $12 that'll last up to 1,000 washes!
Buxom set: Give the gift of luscious lips with this lip plumping duo – for under $20!
Charm bracelet: Gold jewelry goes with everything! And for only $12, find her initial and get this set of three layered bracelets as the perfect personalized gift.
Wet brush: No need to fight with your hair after the shower – give her a Wet Brush (for under $20) to gently untangle hair after every wash! This is a highly rated gift and comes in a print for any personality.
Barefoot dreams socks: If we're at home, we're probably wearing these socks. Like butter on your feet! A highly-rated, highly-affordable, under $20 gift.
Real techniques makeup sponge: Ladies are always in need of a new makeup sponge, so this is your sign to shop this 2 COUNT pack for $10.99! They give a smooth, finished look without absorbing all the product.
Hoop earrings: A pair of gold hoop earrings are a jewelry staple! Love the size of these so much. These would be the perfect accessory for a night out or a lunch date! Super great quality and only $19.
Clips: A hair accessory can change a whole outfit. And these gorgeous checkerboard barrettes are the cutest!!! Perfect for winter, and a great gift idea for a teenager.
Mario badescu hand cream: The hand cream to cure all winter dry hands! Get this duo for $12 and gift a hydrating, rose hand cream and lip balm to keep on the go.
Hair bows: Absolutely LOVING that bows are in style for adults, too! Gift this beautiful velvet bow pack for under $20. These would look so cute with so many winter (and all-year-long) outfits!
Initial mug: This mug is SO beautiful and personalized! Only $12.
Volcano candle: You can NEVER go wrong gifting candles, especially the classic Capri Blue Volcano candle! This mini one makes for the perfect little gift for a friend, teacher, coworker, etc.
Resistance bands: The perfect gift for someone who loves to work out! This set comes with 4 levels of resistance and they're so easy to throw in your bag, use at home, or bring when traveling.
Serving utensils: If she loves to cook, she'll love this set! This darling wood utensil set is literally $8! Yep, it's true. RUN don't walk!
Sherpa slippers: Nothing's worse than cold feet. We're loving these cozy, sherpa slippers that are under $20 and come in 3 neutral colors! PLUS they're cute enough to wear to the store if you need to!
Silk pillowcase: A dang good and super affordable dupe for the Slip silk pillowcase. It gives you the same benefits of less bedhead and being good for your skin, but for way fewer pennies. Although the real Slip silk pillowcase is definitely more luxurious, this Kitsch one is so great if you're looking for gifts under $20. Comes in 11 different patterns and colors to choose from!
Beanie: A solid beanie is a staple for winter. For $15, gift this beanie that comes in 9 colors to any of the women on your list including co-workers, friends, sisters, etc.!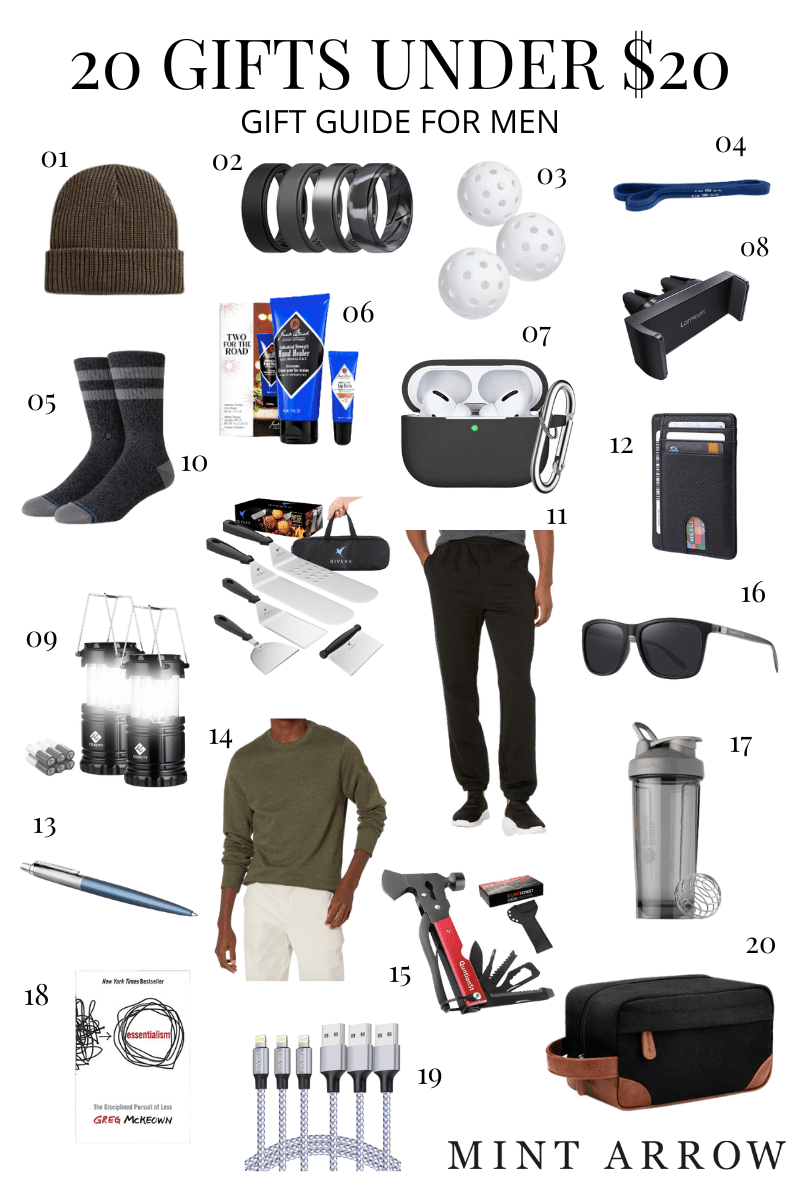 Men's Christmas Gifts under $20
Beanie: A total cold weather classic. Available in four cozy colors!
Silicone rings: Durable silicone rings that are great for working out, swimming, or just everyday use. Lots of great colors to choose from, too!
Pickleball balls: Pickleball is SO fun! If you're gifting a guy who loves playing sports, grab him this set of 3 pickleball balls for only $12.
TRX band: This TRX band can be used for so many different workouts! Perfect for him to add resistance at the gym or get a quick pump in at home. Plus it's a really unique gift idea!
Stance socks: You can never go wrong with a fresh, new pair of Stance socks. Amazing quality and can be worn with any shoe, dressy or casual. These are some nice neutral options. This is the best gift idea for the men family members in your life who are usually super hard to shop for!
Jack black lotion and lip balm set: Perfect for winter, this lotion and lip balm set is super moisturizing and a great gift for him that'll relieve dryness and keep his skin smooth!
Airpods case: Add to cart for only $6.99! Help him keep track of his AirPods with a case keychain in lots of fun colors.
Phone mount: This gift makes it so he can easily mount his phone on his dashboard every time he hops in the car.
Lantern set: This is the perfect set of lanterns to take camping and have on hand for emergencies. Super compact and easy to collapse when not in use! Comes with 2 for $14.44.
Grill accessories set: Anything that has to do with grilling is a super safe bet when it comes to men's gifts!
Sweatpants: It's always nice to have a new pair of sweatpants to lounge around in. Choose from 12 different colors and have the perfect gift for your man under $20!
Card Case: This slim minimalist card case is perfect for the man who hates carrying around a bulky wallet.
Parker pen: Such a timeless, sleek pen. Get this one in 3 colors made of stainless steel for $18.86!
Sweatshirt: A classic crewneck is a staple in any man's closet. This one comes in 30 COLORS and is literally $11.80!
Multitool: If you're buying for a guy who loves to hike, camp, adventure, or be outdoors in any way, this stainless steel multitool is incredible! Eleven tools in one including a pocket knife, all different kinds of pliers, a rope cutter, a bottle opener, a screw driver, and more.
Sunglasses: If he hasn't made the switch to polarized sunnies – grab these for only $12.99! These are super trendy and the UV protection makes a huge difference in outdoor lighting.
Blender bottle: SUCH nice bottles for him to use for his protein shake or any other drink that needs to be mixed in seconds. So many colors for $13.99!
Essentialism: A BESTSELLER all about simplifying and focusing on the most important things in life. Everyone should read this book! Get it in paperback or on the kindle for under $14.
iPhone charger: iPhone chargers are ALWAYS getting lost. This pack comes with 3 extra charging cords for $9.99 so he can keep one at home, at work, and in the car – he'll never be scrambling to find one again!
Toiletry bag hanging dopp kit: This toiletry bag is so sleek and big enough to fit all of his essentials when traveling! Perfect gift for only $15.99.
YOUR picks for gifts under $20
Here are some of your suggestions from when I asked for gifts under $20 on my Insta Stories last year! Gift-giving made easy.
Savings every Santa will love
Take a look below to shop all these affordable gift recommendations that'll keep your wallet happy during the holiday season! Remember that you don't have to spend a fortune to make the people you love feel like a million bucks. It's always the thought that counts the most!
If you need more help Christmas shopping, check out the rest of our gift guides HERE. And make sure to sign up for our newsletter so you don't miss any this season!
WOMEN:
MEN: