It is hard to believe that Corrine has been in her new house for TWO years. Can we still even call it the new house? What is the statute of limitations on that sort of thing? One of the things that stressed her out the very most when they moved into this house was all the built-in bookshelves! Can she get an AMEN? Because that struggle was real!
There are custom built-ins in almost every room in this house which was super intimidating at first and it took her quite a while to fill them all in. But now it's DONE and today we're sharing her 10 BEST built-in and bookshelf styling tips with you!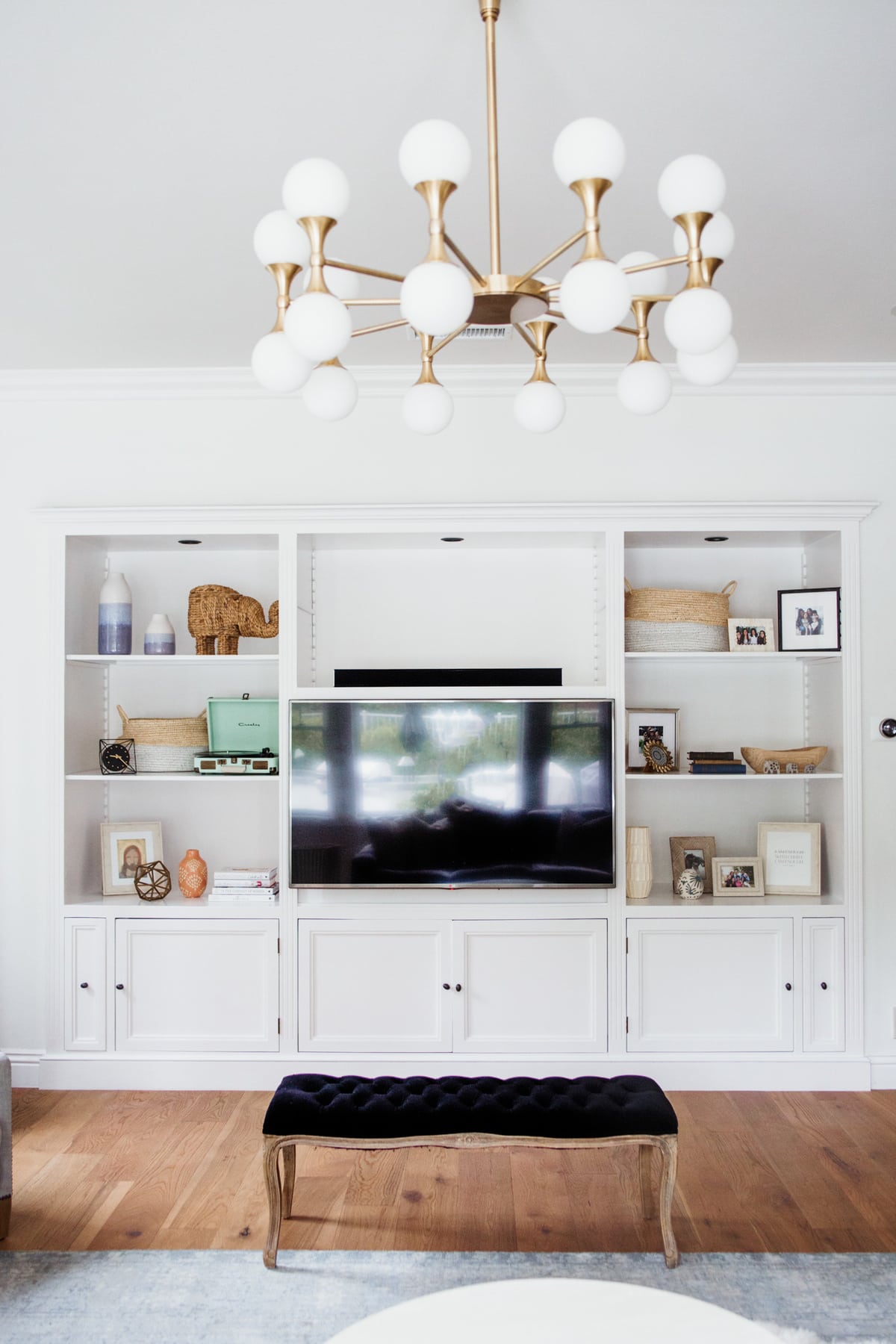 Tip #1: Pictures
Built-in bookshelves are a perfect place to display family photos and artwork. Pictures are a great anchor piece to start with as you layer a shelf. If you have lots of framed photos or artwork that you are trying to space out around your house, your built-ins or bookshelves are the solution. Corrine put the larger flat pictures and photos toward the back of the shelves and ones on stands or easels can be layered more toward the front.
Tip #2: Figurines & Trinkets
Small figurines and sculptures make great shelf filler pieces. Prepare for the Target Dollar Spot to quickly become your best friend because Corrine has found so many small cute (and inexpensive) things there. She has also found lots of super cute little figurines here for a good price!!
Tip #3: Books
Technically built-ins are bookshelves, so books are HUGE. Corrine loves stacking and displaying books in color groupings with all like-colored books together. Most recently they did a rainbow bookshelf with their girls in the playroom.
Guaranteed there are so many color groupings you could put together and so many ways to utilize books that you already own and make them really cute. Books are also something you can get at thrift stores or in bargain bins or at garage sales for $1 or less if you're wanting to beef up a specific color grouping or fill in a shelf.
Tip #4: Pick a Color
Picking a color for a specific built-in shelf makes styling it a snap. One of the shelves in Corrine's dining room (below) has a pink theme. Every item on that shelf is a different shade of pink. She also has a shelf that is mostly mint. A color scheme makes it easy to shop and coordinate items for a specific shelf.
Tip #5: Practical Storage
As we previously mentioned, there are a lot of built-in bookshelves in Corrine's house which translates to a lot of storage space. She loves to use some of that space for functional pieces. Her built-ins in their dining room double as storage space for pretty bowls or cake stands.
In their home office, she styled a few shelves with filing cabinets and magazine filing boxes. They're super pretty but also help keep business related items organized and looking nice.
Tip #6: Baskets + Containers
Using pretty baskets and containers is an amazing way to store things that are functional. They have a little wooden boat on the built-in bookshelves in their family room that holds (and hides) all the remotes. Corrine loves that it looks nice and conceals a mess.
In their office she has the prettiest gold turtle box (sold out, similar) and gold palm tree (sold out, similar) jewelry stand for storing jewelry from campaigns and collaborations, but it also looks super cute.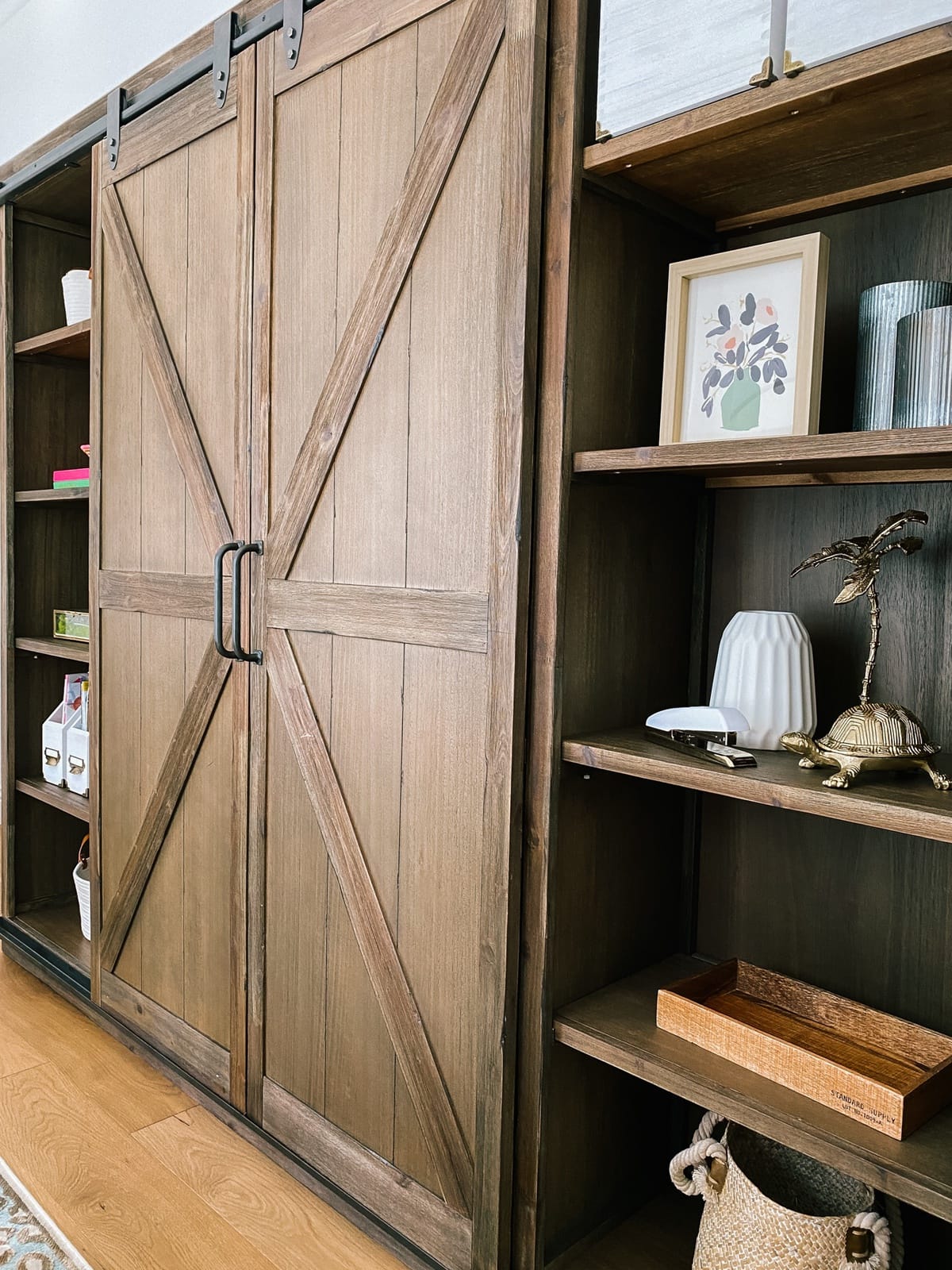 A tray is also a great piece for organizing and displaying items on your shelves. Corrine has a super pretty one on her bedroom built-ins that she has used to organize all her perfumes.
Tip #7: Meaningful Pieces
Mix in some meaningful and sentimental pieces simply because it sparks joy! Corrine has an entire shelf in her home office dedicated to Kate Spade and her trip to Rwanda. It makes her happy and is a good reminder of a promise she made to herself to one day return and work with those women again.
Tip #8: Odd Number Groupings
Things look best in odd number groupings. Threes, fives, or even just one large item. When styling your groupings, things look best in a "triangle" or organized tallest to shortest.
Tip #9: Faux Plants
Many, many design bloggers are very anti-fake plants in built-ins. However Corrine loves the little pop of green on her built-in bookshelves. And also, she can't seem to keep a plant alive even if HER life depended on it!! Fake plants are a stress-free way to breathe a little life into your shelves.
Tip #10: Start from Scratch
If you're not in love with how your built-in bookshelves overall are looking, START OVER! Take everything off all your built-ins and then regroup objects that feel alike and start putting them back.
One shelf at a time
We hope these TEN tips helps you guys restyle your built-ins or provided you styling inspo to start styling your shelves. This is a perfect quarantine activity because we're all home anyway and online shopping still exists. Happy styling and let us know if you have any built-in styling tips to share with us too!