so i thought you guys might want to know that there's a really fun post i helped my mom with over on her blog of our favorite glazed sugar cookies, from my favorite little cookie + sandwich shop in the town i grew up in, bountiful utah, called cutler's cookies. find the recipe for cutler's famous glazed sugar cookies here.
i also thought it would be fun to just tell our love story. you know – the story of how my husband neil and i fell in love. if you're single and ready to gag or click away because you're worried that this might turn into some sugary sweet sappy unrealistic liar-face fake story, have no fear. it's full of real ups and downs, a couple breakups, even a break-off of our engagement story and ultimately a pretty happy ending. keep reading.
neil and i met in lake powell, on a grown-up spring break(ish) vacation, on a houseboat that should sleep 14 but really housed about 50(ish) single kids in their 20s. let's be honest, most of the girls there were about 18. and neil and all his friends who, at the time, were 27. "we keep getting older and the girls just stay the same age" or something like that. ha.
 (different year, same trip)
(literally our very first conversation)
so when neil met me he was certain that i was 18. i took one look at his sideway pink trucker hat and gigantic tattoo on his back and figured he was the king of the toolshed. turns out we were both wrong.
we started dating that fall and by christmas time i was pretty sure i had found the real love of my life.
i also felt pretty special because i was the first girl he ever said the magic ILY words to or talked "marriage" with, and he was 27. that meant something, right?!
what it meant was, he was scared stiff of commitment and, surprise! he dumped me 2 days before christmas. i was devastated.
well that didn't last. we couldn't stay away from each other and got back together 5 days later. things kept going pretty well for the next several months and right about at the year mark of when we met, neil proposed by having each of the most special people in my life hand me a rose and a love letter over the course of a day, that ended with him singing me a song on the guitar and reading me the final letter.
i know right?! SO CUTE. the end. happily ever after.
PSYCHE.
you guys, we broke up again. except this time it was me breaking off our engagement. about 2 months after getting engaged, right after we spent a perfect weekend in new york city together. it was an ugly-cry, giving the ring back, hellish torture of a nightmare (wait is this still a love story?). in all my self-centered drama i really thought i was the most picked on person of all time. after all, i had already been through a painful divorce, and now this? it just wasn't fair.
i'm not going to lie. it was a struggle. i couldn't eat or sleep or think or see straight for several days. i felt like i was going through my divorce all over again, except even worse. because with my divorce (especially initial separation) there was a huge sense of relief too. this was just pure pain.
this time around we stayed apart for a lot longer than that first break up. it took several weeks before we saw each other in person. but about a month later we started spending some time together again. i can't even begin to tell you how awkward it is to go from the progression of guy-you're-dating to boyfriend to fiance to … um, i'm not sure what he is now?
well anyway, we took our time and dated for a couple more months. just dated. nothing serious, no pressure, no serious wedding talk, just taking our time and making sure things felt right.
and then one night in january we went to a movie (tangled, my choice!) and then spent several hours talking and talking and talking some more. aren't those the best? we just knew. we knew we were supposed to be together. for sure. forever.
he pretty much said "wait right here" and got the ring out and came over to where i was sitting, knelt down on one knee, and poured his heart out to me about why he wanted to be mine forever. i wish i could have recorded that speech somehow because it's the best one i've ever heard and would put any nicholas sparks movie to shame. i loved both proposals from him but this one really came straight from the heart. not rehearsed, not planned. just pure heart. it still makes me emotional.
i'm a religious person and i prayed a lot about this. i prayed a TON. and i knew. i knew it was right in my heart and that i truly had zero hesitations about being with him forever, making babies and having a family and sharing ups and downs and fears and character flaws and vulnerability and committing myself to being his teammate and partner in everything.
so that summer, on a perfectly sunny day in august, the two of us kids got married.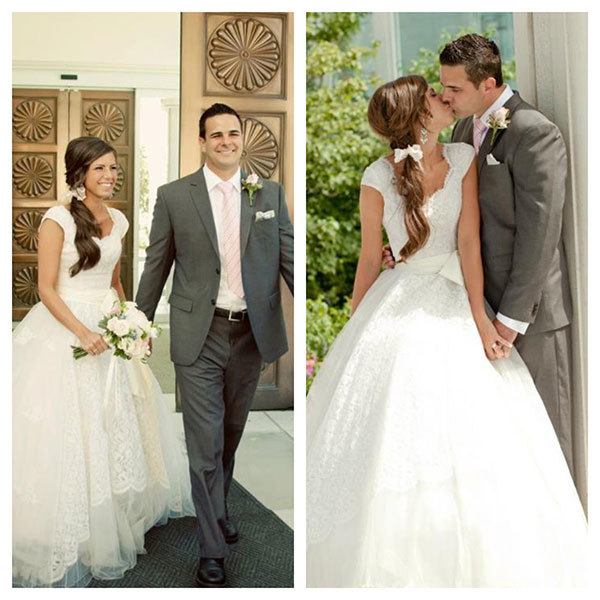 i remember feeling so unapologetically happy, so sure and so calm and peaceful.
we had a really simple wedding. but we wanted to celebrate, and we wanted to dance. and dance we did.
i really believe that all the ups and downs that neil and i went through over the two years we dated prepared us to know each other for real. there were very few surprises once we got married and moved in together (except the way he dunks literally 8 graham crackers into his milk at once. seriously?!). this isn't the right thing for everyone but for us, for someone like me who had once made a mistake in who i married, it was everything. because that absolute 1-million percent certainty on the day that i made promises to be with him forever was something i was determined to do right.
fast forward several years. we're still married (yay!) haha. we still love each other. we fight sometimes. we get annoyed with each other. but we are both committed. we make sacrifices for each other to support the other's needs, passions, and ambitions. and we both love milkshakes and laugh at the same things and dance to oldschool rap together and share the same goals and dreams. we are pretty much polar opposites in almost everything else, but it works for us.
it's nice to reflect on our love story and on real love. because it feels good to remember all those yucky times so that i can be even more genuinely grateful for the good now.
happy valentine's day, friends. i love you!