STORY TIME! Have you ever had a total domino effect in your home, when you switch one room and then it affects a bunch of other rooms after it?! That's what happened to us in 2022, but I'm actually LOVING how we're utilizing more of our house including making an office out of a room that used to just sit there un-used almost every day. I decided on an office with a COASTAL theme – something where we'd feel light and fresh and creative while we work, without absolutely robbing our bank, because if you've ever bought furniture you KNOW, it can add up fast.
So of course I was beyond excited about these BEAUTIFUL pieces I found from Walmart that aren't only perfect for the vibe I was wanting, but they're also sold at the most affordable prices ever!
Rearranging, redoing, refreshing – all of it!
The office became the playroom, the playroom became a bedroom, the dining room became the music room, and the formal living room…well, you get the idea. Just LOTS of rearranging going on over here!
Originally, our home office was on our main floor, but when we had family over for the holidays we made it a temporary playroom so we could use our playroom upstairs as a guest bedroom. But, as you might guess, the moment our family left, Lyla moved right on in to the guest bedroom and claimed it as her own! Soooo, now we have a bedroom where our playroom was, and a playroom where our office was…and no office. Time to change that!
Downstairs we have two formal rooms at the front of the house that RARELY, except for playing piano, get used: the formal dining room, and the formal living room. And even on THANKSGIVING we ate in our kitchen dining area, not the formal dining room. So we made the formal dining room into a piano/music room, and transformed the formal living room space into our new home office! ENTER: our office makeover. And I can't wait to show you the furniture and decor I found from Walmart!
A desk for not one, but TWO people
The moment I saw this L-shaped desk I fell in LOVE with it! It was everything I wanted and more for our coastal themed office makeover. Sometimes Neil and I work together whether we're on a phone call or planning, or whatever it is – so I love that this desk is L-shaped so we can sit and work together!
With a spacious top surface, this desk has so much space for all the things you need. Pens, post it notes, desktop computer (or two), and a yummy candle like this one from Walmart. Plus, there's a file-sized drawer for extra storage for the things that might not be aesthetic to leave on the desktop.
I'm obsessed with this desk and am EVEN more obsessed with the price tag! A desk I saw that looks JUST like this one from a high-end retailer is literally $1,600, and this Walmart one is only $299.25. Are we kidding?! Same style and still great quality for nearly a fifth of the price!! (Side note: have you seen our new patio furniture that's also an AMAING dupe here?)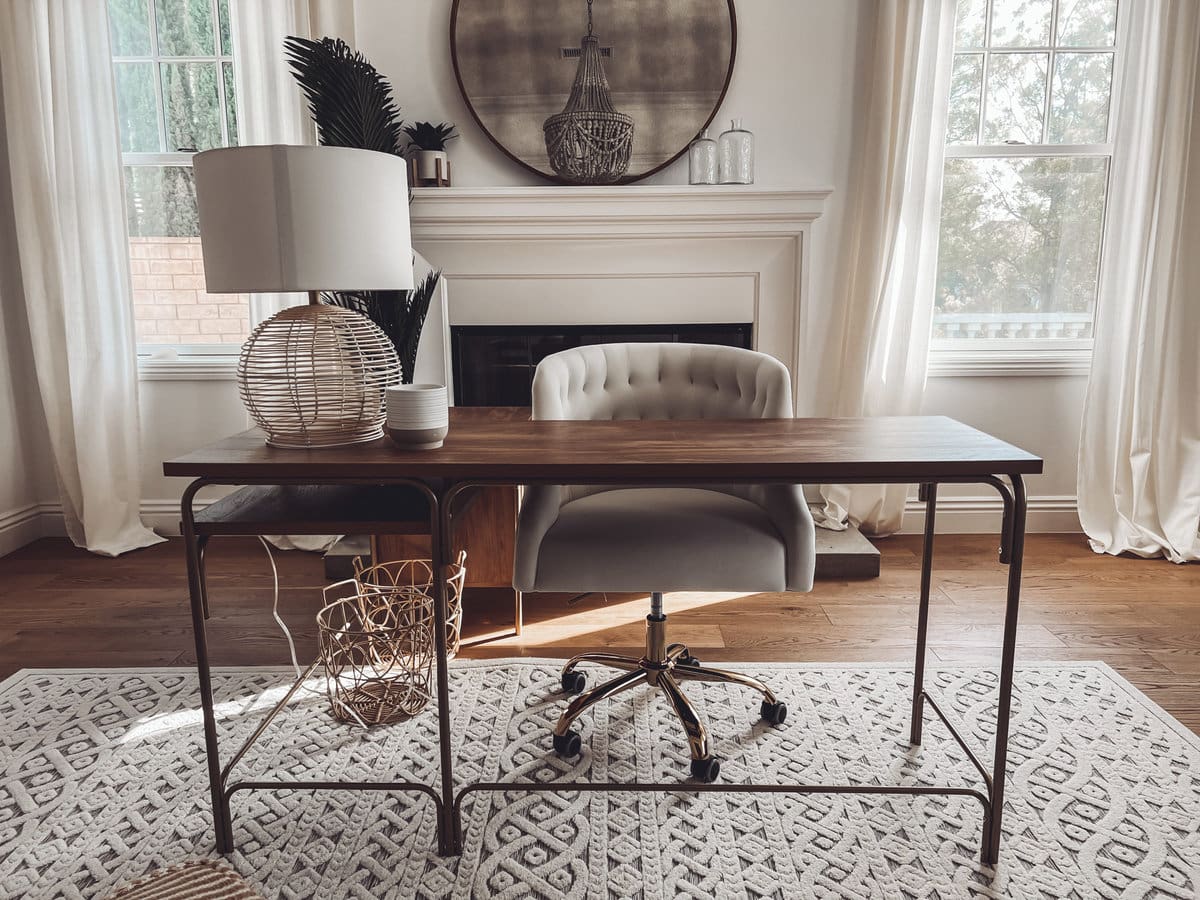 Office makeover tip: it's allll about the details
Who says your office space can't be functional AND cute? It was so fun finding decor for our office makeover because there were SO many quality pieces to choose from. Like these beautiful, textured vases that would be perfect to add flowers to, or even leave empty on the desk or side table!
One thing you can always use in your workspace is LIGHT and greenery! It really makes things a lot happier, especially when you're doing busy desk work.
This cute agave plant is the perfect size to put on your desk AND it requires no sun or water (so no worrying about keeping this plant alive). I also couldn't resist this 6.5 ft. artificial palm tree that looks SO realistic and adds such a beachy feel to the room! A lot of faux trees are super expensive and this one is just over $130!
I added this coastal bohemian lamp to our desk and it tied the whole room together. It's neutral and simple to match any theme in your office, yet the woven details of the wicker add the perfect amount of detail to the room.
Okay, one last word here… MIRRORS! They do so much to open up the room. I think this set of 3 wicker mirrors is literally perfect and it's only $20 for ALL 3! Each mirror is a little different so you can layer them next to one another on the wall, or separate them to put in different spots – endless possibilities. And the best part is, they easily slip on and off any wall hook you use!
Coastal office makeover, but make it cozy
Nothing's worse than sitting on an uncomfy chair while trying to work all day, so one of the things I was MOST excited to find was this chair! It's so cute and comfy, and this beige color looks good with just about anything. I'm obsessed!
These chairs are each hand built and SUCH high quality. Not to mention they're under $600 for the pair, nearly $1000 less than a lot of the ones found at other high-end retailers!
Now, let's be honest. Pillows are a necessity, but not always one you want to invest a ton of money in – especially if they get switched or replaced often! So I love that these ones from Walmart aren't too expensive. And both the creamy woven pillow and the navy striped pillow are the definition of coastal vibes!
Office makeover finishing touches
This neutral pouf and this one are my favorite to have in our office for the kids to sit on or to prop our feet up on. And, you ALWAYS need a basket to throw blankets, magazines, whatever into! This rattan basket comes with an option for one big basket or two small ones for only $25.
Office space all tied together for LESS
I'm telling you, whether you're looking to re-do your office or another room in your house, find these items and SO many more affordable, yet QUALITY, furniture and decor pieces at Walmart right now!