If you're approaching the 30-age threshold or you're well above it (and in your PRIME, I might add!), a "glow up" may not be something you've thought about recently. But over the past few years I've come to learn that with new products, no matter what age you are, a "glow up" is 110% possible and a real thing!
It's amazing how you can improve your skin, makeup, and aging with time, consistency, and the right products. Today I wanted to share some AMAZING deals (because I LOVE the deals, too) on "glow up" products that I think every age can love, but especially those of us in our 30s and beyond!
BONUS: If it's your first time shopping at QVC, you can use the code NEW for $15 off your first purchase of $50 or more, or you can use code HELLO10 for $10 off your second purchase of $25 or more!
Peter Thomas SPF
People are OBSESSED with this SPF and I think I'm gonna start riding that train! It's an SPF & tinted moisturizer all in one, and some reviewers even say it's a great makeup primer.
It's pretty dang cool because it's made with light-scattering optics from diamond powder to help give your skin a natural-looking, radiant finish. Literally a glow up! I read lots of reviews on this and from light skin to dark skin everyone said the tint was just right. It blends super well while also giving you a bit of a sunkissed tint. Not a deep color like a self tanner, just a light, bronzed tint.
The MAIN "glow up" part of this product is the SPF. Putting SPF on your face every day is the #1 thing you can do to help slow the signs of aging! And I love that this one lays so well under makeup. It's something you'll actually love to apply every day because of how healthy it feels on your skin, and you'll love how it protects your skin over time, too!
But what's even better about all of this? THIS DUO PACK.
It's basically a BUY ONE GET ONE FREE deal. One bottle of Peter Thomas SPF is normally $34, but today you can get TWO for only $38!!! Insane. If you want to have a facial SPF on hand at all times, this is the deal to take advantage of and stock up on!
IT Cosmetics 5-Piece Collection
If you know me, you know I LOVE basically anything from IT Cosmetics. This 5-piece collection is to die for and would basically give you a whole entire glow up in and of itself. This is what you'll find in your 5-piece collection:
(1) CC+ Cream
(2) Superhero Shadow Sticks in Silk Armor and Bionic Bronze
(1) Special Edition Superhero Mascara
(1) Special Edition CC+ Skin Perfecting Brush
ALL of this. For only $49.96.
Just the CC+ Cream ALONE is $39.50 at other retailers, so this collection is absolutely blowing me away at such an amazing price.
What's in the collection?
Let's talk about what's included in this amazing set!
If you're not familiar with IT Cosmetics CC+ Cream yet, it's something I rave about constantly. It's basically skincare with a side of amazing coverage! It's straight up MAGIC and has SEVEN products in one!!!
That means you can literally skip your moisturizer, primer, color corrector, anti-aging serum, dark spot concealer, full coverage foundation AND SPF 50 because this bottle whips it all up into one easy little formula.
The shadow sticks are really creamy and beautifully pigmented eye shadows that will last you all day. IT Cosmetics' products are always known to last all throughout your day which is one thing I love about them!!!
And I love how gentle yet lengthening the Superhero Mascara is. I can even use it on top of my DIY lash extensions!
Lastly, the skin perfecting brush is a MUST for applying their CC+ Cream. It's the best way to get a natural look with it. I honestly didn't love the CC+ Cream until I used one of their brushes to apply it! So the fact this is included in this set is a HUGE DEAL.
Remember, you can get ALL of these things for only $49.96, but the deal is only going through today (7/27) so don't wait on it!
bareMinerals Complexion Rescue Tinted Moisturizer
If you want the best of ALL worlds, this is the product for you! This bareMinerals dream formula is a BB cream, CC cream, and tinted moisturizer all in ONE. If you don't love to wear a ton of makeup and really care about good quality products on your face, this is the perfect moisturizer for you to put on each morning!
And how crazy is this? In a clinical study, 100% of women experienced improvement in skin texture after one week, and again after four weeks, and 100% of women experienced improvement in hydration after one week, and again after four weeks. Ummm, I'd say that's pretty convincing!!
Best of all, normally one of these bottles is $33… Today you're getting TWO for $29!!! Not sure how or why?! But don't ask questions, just buy if you're thinking about it because WOW. Pretty sure you'll never see a deal like this again!
IT Cosmetics Setting Spray
Another IT Cosmetics FAVE. I looooove that this IT Cosmetics Setting Spray has hyaluronic acid in it to increase moisture in my skin as it sets my makeup. Definitely a glow up product that would be an amazing addition to any makeup drawer!
Did you know that hyaluronic acid holds 1,000 times its weight in water? That means it acts as a moisture magnet so your skin doesn't dry out! It also helps my makeup stay on better even on a hot, Southern California day.
And guess what? You can buy this setting spray as part of another amazing duo deal! Get two bottles of this super highly rated setting spray for only $43.47 – regular retail price for two of these is $57! That means you're saving a good 23% on this deal.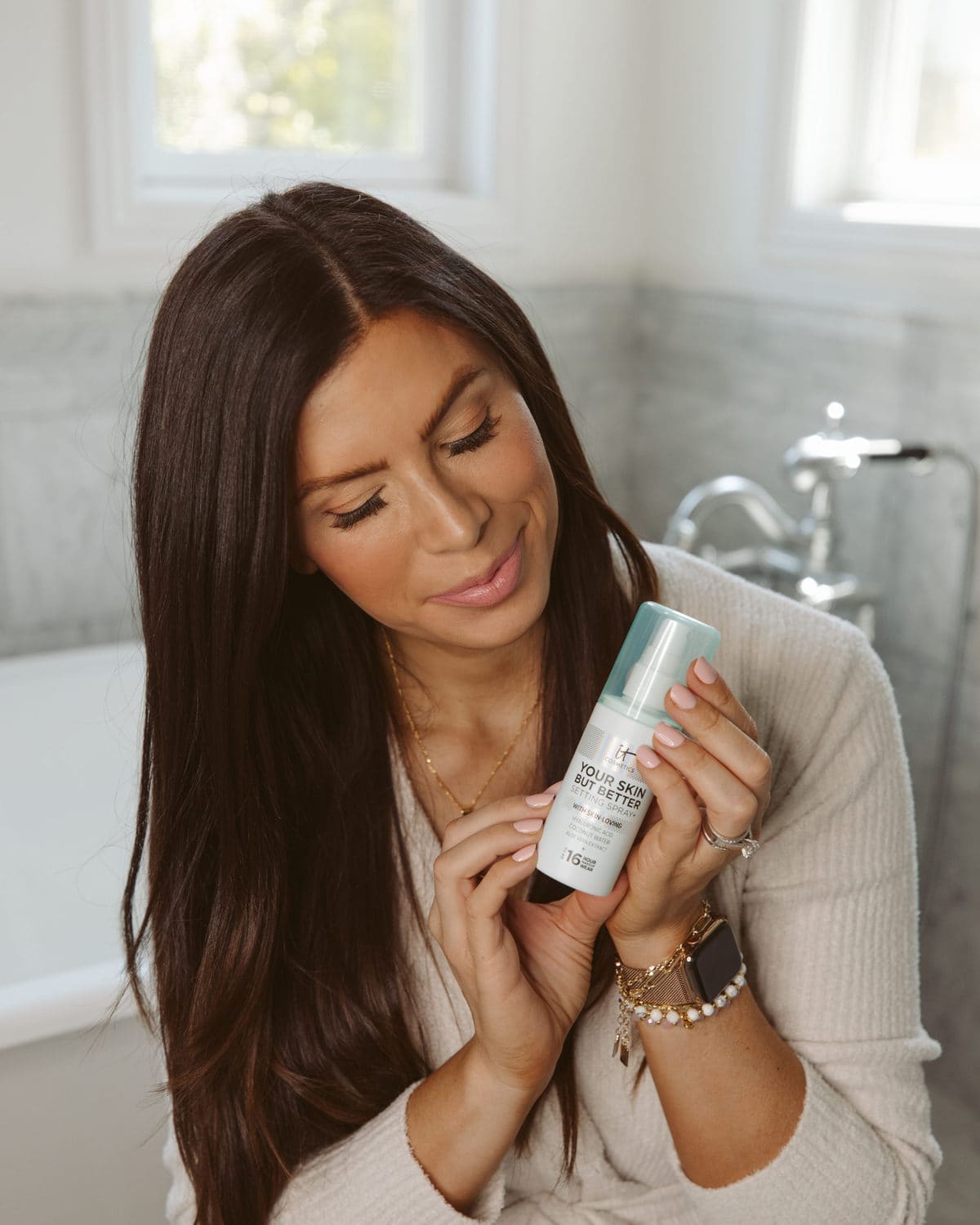 Philosophy Cleanser & Glow Skincare Set
If you're one who wants a skincare routine to glow up but doesn't want ALL the steps and expenses of one, this set is for you! You already know Philosophy is an amazing brand, and with this set, you can wash, tone, and hydrate your face in two easy steps.
The facial cleanser is meant to wash & tone as it gently removes all the dirt & oil from your face, and the moisturizer is just the cherry on top. Feel refreshed, hydrated, and clean without any extra fluff. And I'm so excited because this set is only $67.26 right now!!
Normally a full skincare routine would cost you $250+, but today you can get everything you need for only $67. AMAZING. At normal retail price these items would cost you $116, too, so you really are saving today!
Peter Thomas SPF 45 Sunscreen Duo
IT Cosmetics 5-piece collection
bareMinerals complexion rescue
IT Cosmetics setting spray
Philosophy cleanse and glow set
Glow up for less
I'm seriously SO happy that all of these amazing products are so affordable right now! If you've been wanting to invest in some really great products to help you feel your best, I promise that these will be your next favorite purchases. What do you need to add next to your makeup or skincare drawer?
BONUS: If it's your first time shopping at QVC, you can use the code NEW for $15 off your first purchase of $50 or more, or you can use code HELLO10 for $10 off your second purchase of $25 or more!