I literally laughed out loud multiple times yesterday, after I posted a sneak peek to our family photos, when people said things like "you guys are perfect."
Such a sweet compliment but so hilariously far from the truth! The truth is, we had a rockin photographer and we have some tricks up our sleeves for getting good photos. Want to know what they are? Listen up because I'm about to get real here.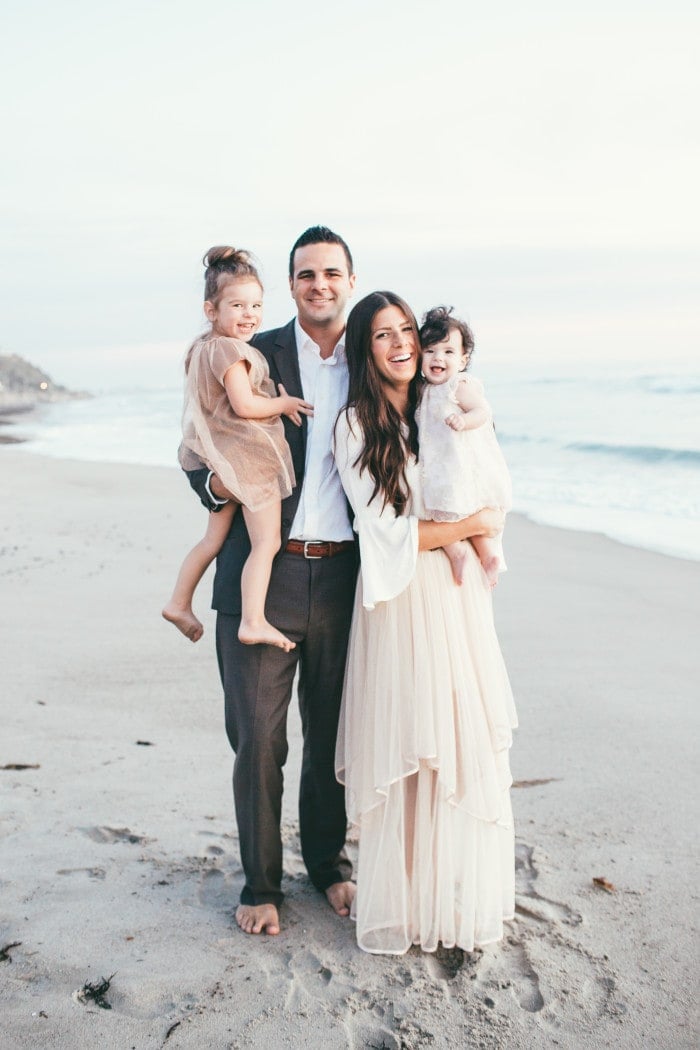 1. Keep it short and sweet: we literally had 10 minutes to get all of these photos done and you know what? These are my favorite family photos we've ever taken, because everyone was relaxed and happy, nobody got sick of smiling or posing or grumpy.
2. No hangry people: If you have littles, make sure they're rested, fed, and happy. Toddlers especially do best right after a nap! So whatever you have to do to be sure your day is structured around their naps is a great idea. We also gave Lyla a bottle right before so she had a full belly and was happy as a bird with a french fry. Husbands also should be well-rested and fed.
3. Overdressed is better than underdressed, always. This rule doesn't just apply to a job interview or a funeral. This rule is one I knew but almost broke this year for the sake of being relaxed (and lazy), but my photographer Emmy pushed me to be dressy and man am I glad she did! They always turn out so much nicer and you're not only going to have a good snapshot of your people for a holiday card, you'll actually probably want to frame some of these and put them up in your house!
4. Get neutral: I know some people will disagree with me on this, but if you are planning to display these photos, and you really want them in one room but you need to move them eventually, you'll be bummed if everyone is in super bright purple and green and they need to go into a muted toned room. Unless of course, your entire home is super bright and colorful. Then by all means, go bright and happy! Also, color coordinated > matchy-matchy. In my opinion of course!
5. Treat yourself: work with whatever budget you have to get yourself as dolled up as possible. Yes mama, I'm talking to you. The one who always spends on her kids before herself especially. This is the one time a year I absolutely insist that you do whatever you can afford to make yourself feel beautiful. Get your brows professionally waxed, get your hair colored, your nails done, your makeup done or hair done that day, get a spray tan, wear your spanx, whatever you can do to feel confident and beautiful. And I know family pictures can get expensive so if you're tight on budget, don't use that as an excuse to not take care of yourself! Get creative. I didn't have time to get a spray tan so I used my self tanner that morning, I got my nails done a couple days before but I could've done my shellac hack to save money, and I did my own makeup and hair.
One of my friends a couple weeks ago texted me to say she couldn't come to a friend get-together because her hair appointment conflicted and she had family pictures that weekend. Say no more girlfriend! Say. No. More.
6. The great outdoors is the greatest backdrop: Some may disagree, but unless your photographer has an incredible natural-light indoor studio, I prefer outdoor photos 1 million times over indoor. Not only can you get natural light, but natural smiles and happier, relaxed little people when they can run around a little and be themselves. In contrast to these pictures, we had a studio family photo shoot with my in-laws and all the children and grandchildren on their side over Thanksgiving break and all I can say is, there was a chorus of crying children the entire time. Ha.
7. There is NO SUCH THING AS PERFECT: Your kids might not all look at the camera, your husband might show up with a totally different belt than the one you would've picked out, a hair or two or twelve might be out of place. BUT if you're happy and feeling confident, that's what will shine through in the pictures. And that's all your friends want to see anyway when they rip open that envelope once a year.
8. You get what you pay for: hire a professional. Ask someone you know who's worked with that photographer what they're like in person, if they're happy and personable and funny (SO IMPORTANT!) and most of all, make sure you are totally in love with the photos they've taken for other people. You're investing in memories of your growing family. And you're about to put your face on the fridge of all your closest friends and family, probably only once a year. So skip your starbucks fraps for a few weeks and get yourself some family pictures you'll really love.
If you liked this post you might like my post on how to get the best (and avoid the worst) newborn photos.
Big thanks to Emmy Lowe Photo for making these magical photos happen in literally 10 minutes!
Our outfits:
Neil's suit jacket and slacks were old but here's the identical new version – jacket, slacks
Neil's dress shirt (the BEST!), belt
Lyla's dress
Ani's dress was from Zara (no longer available sorry!)
My skirt, top, belt