Quick version: These are the 5 cutest tops to add to your closet for spring!
The weather is finally warming up, flowers are starting to bloom and we're seeing more and more pastels – this only means one thing… spring is near (or maybe it's here depending on where your live!). It's time to brighten up your wardrobe with lighter and airier tops, and Nordstrom is the perfect one-stop-shop for that. With so many different styles, patterns, fabrics and fits to choose from and everything being top-notch quality, we created a shopping guide with all of our very favorites we know you'll love to wear this spring season, too!
In a hurry? Shop our picks below: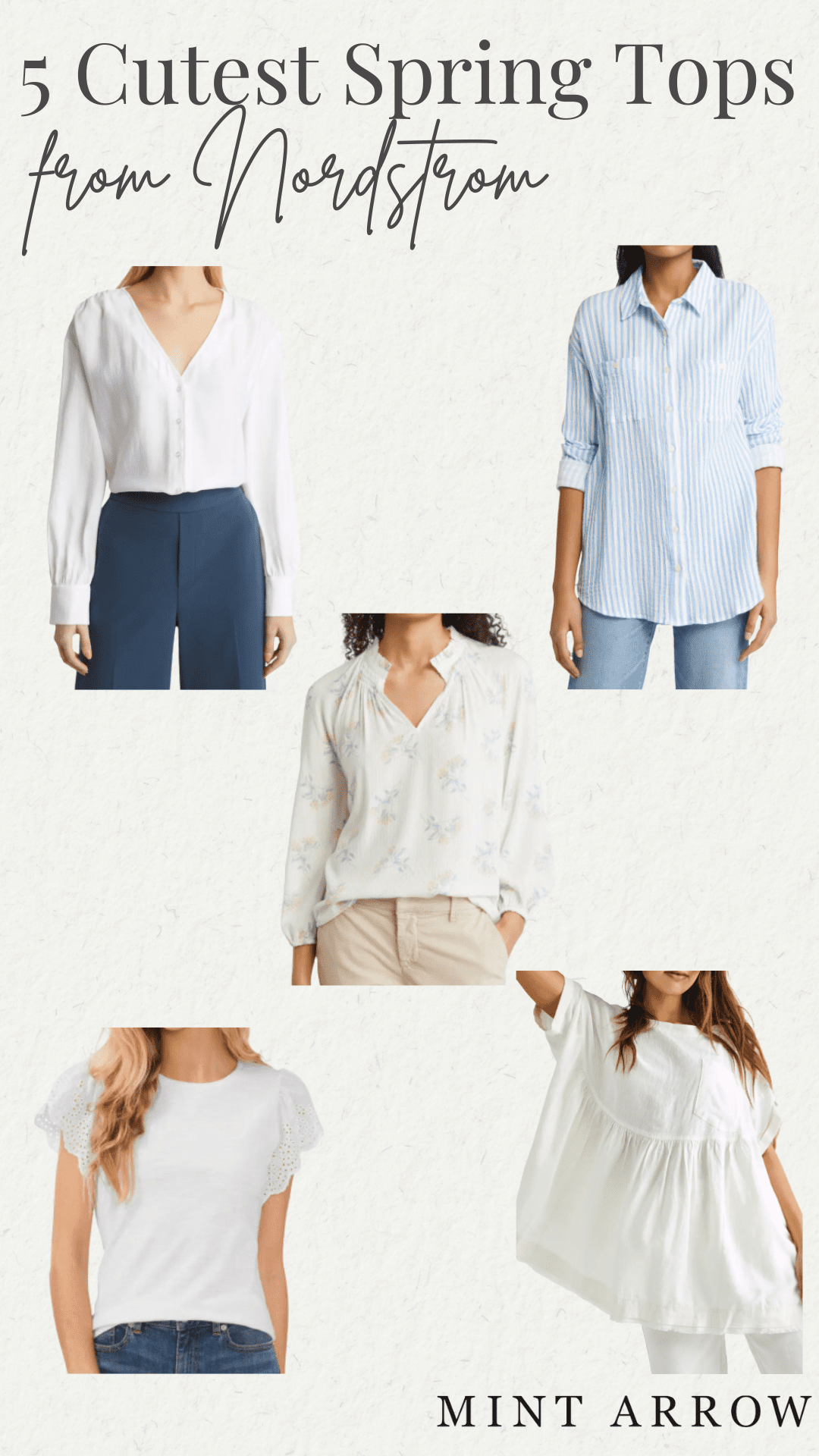 Spring Fashion 101
What colors should I wear in spring 2023? Any pastels or lighter neutrals are always a safe bet, but bright colors are popular this year too! Dress in whatever colors you feel most comfortable in, and chances are you'll be right on trend!
Which tops are trending this spring? When we think spring 2023, we think of anything that's flowy + oversized. Lighter materials such as cotton or rayon are also great materials to wear as the weather starts warming up.
When should I start wearing spring clothes? The first day of spring was technically March 20th, and March 1st is usually when everyone starts getting excited about spring! We know it just hasn't felt like spring yet for so many of us this year, it's that's you – you can totally still wear spring colors to dress for the season without freezing!!

V-Neck Button Blouse
If you're wondering when it's the proper time to start wearing spring clothes, the answer is now! This is the perfect time to transition your wardrobe. And with temperatures rising in most places, this v-neck button blouse is a super cute spring top option because it's very lightweight and is made of a smooth and soft material! The fit is more of a loose and boxier fit, and it looks so cute partially tucked into some pants or even a light-colored silk skirt. Our very favorite part might just be how classy and feminine the details on the sleeves are and that bubble look it gives. I'm wearing the white, but the light blush color is such a sweet and neutral pink that screams all things spring and it's just so versatile!! If you're between sizes, we recommend ordering one size down!
Cotton Gauze Button Up Shirt
Button-up tops are definitely trending this spring 2023! There's a variety of different fabrics and styles, but ones like this cotton gauze top are a really popular and stylish option! This cotton gauze fabric is ultra-lightweight and airy. We love how the gauze cotton gives it that cute wrinkled texture. It does have a relaxed feel, so it's a really great top to layer with! And if you're in between sizes, make sure to size up one size. This top looks cute buttoned up with some straight jeans, unbuttoned with a cotton white tee underneath and some slides, or use it as a swim coverup this summer! And this blue and white pattern is just the cutest!
Free People Ruffle Hem Top
If you're looking for a shorter sleeve and something that's easy to throw on over jeans or even leggings, but still want to look cute and springy, this top is for you!! We're seriously in love with the oversized, flowy fit of this ivory top. It's giving coastal, cutesy vibes with the linen fabric and the flouncy ruffled hem! Because it's a really flowy and an oversized fit, reviewers recommend sizing down one size. The fabric hangs well and it's not too sheer. Just the perfect white spring top to add to your wardrobe this season!
Split Neck Blouse
Spring-time is a time when there's lots of gatherings for bridal showers, baby showers, and all of those fun events. When you're in need of a slightly more dressy top, this blouse is a perfect pick! The split neckline creates a very flattering cut and the cuffed sleeves have us all with heart eyes. The pattern is kind of a bohemian feel and it's so cute! Even though it's long sleeved, it's suuuper lightweight and airy, so still a great option if you live somewhere where it's warmer. It makes for a really cute spring top, but also could be perfect to wear all year round! Fits true to size and comes in so many different patterns/colors!
Eyelet Flutter Sleeve Top
For a super casual but elevated and chic spring top idea, this eyelet flutter t-shirt is sooo dang cute. This bright pink color is definitely trending this spring 2023, too! We love this top because it gives the comfortable feel of wear your fave t-shirt, but your outfit is taken up a notch with these super fun eyelet flutter sleeves. The easiest top to throw on with some jeans and sandals for a cute spring fit!
Adding a touch of spring!
We can't believe we're over half way into April already and it's finally starting to look like spring! It's such a refreshing time of year with such pretty light and airy clothing items that we're so excited to start wearing! Nordstrom has such a cute selection of spring tops that are all trending in colors and styles. These are wardrobe staples this spring that will be perfect for any occasion, and we've rounded up our very favorites here to make your shopping easy!