I don't know about you guys, but we're Sunday people. It's one of our favorite days of the whole entire week! We love to brunch at home, go to church and spend lots and lots of time together as a family. With the changing seasons (Hello, Fall!) and a changing body (Hello, new baby!) I had an absolutely perfect excuse to refresh my Sunday best. And I LOVE that these Sunday best picks are all so super affordable.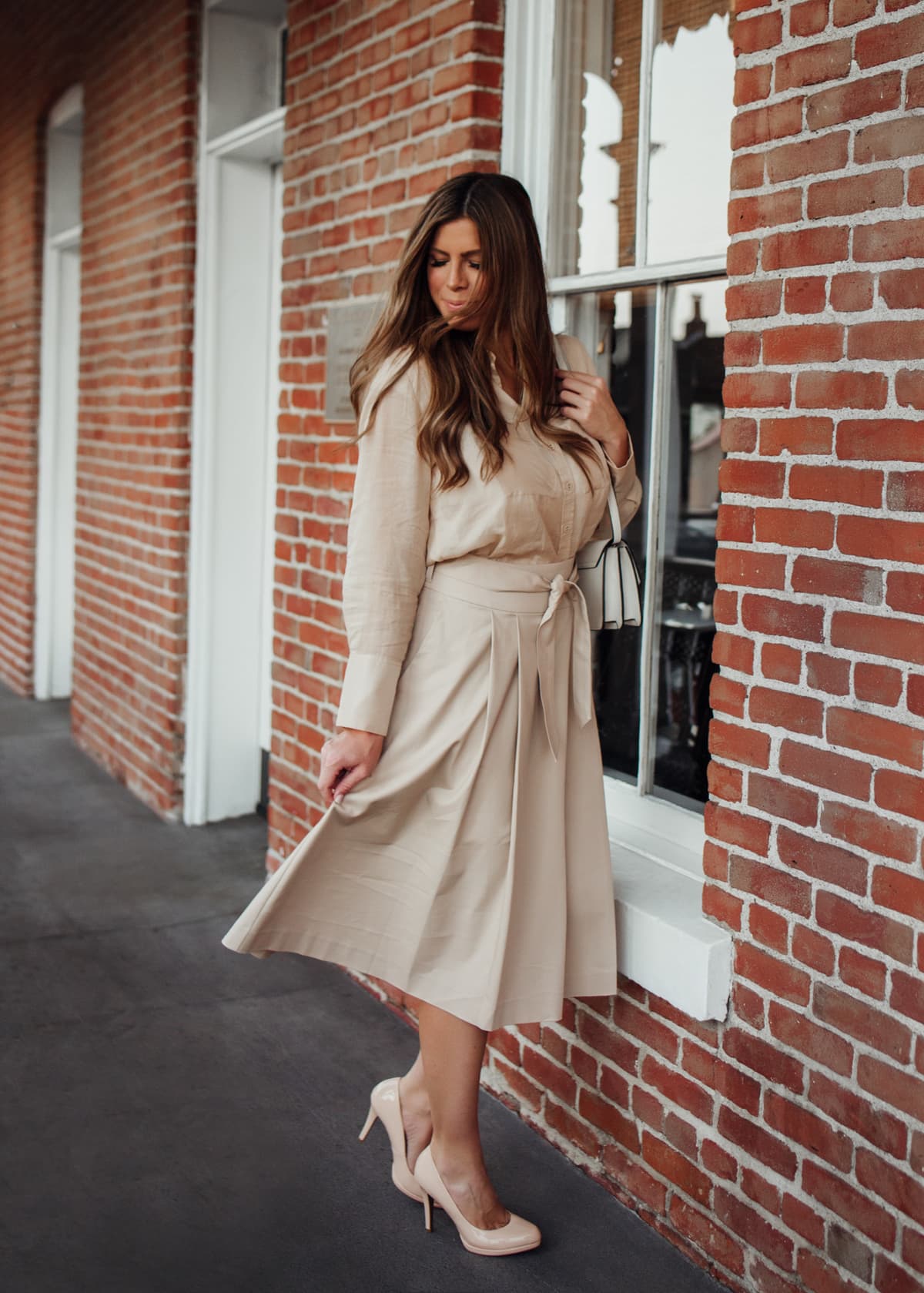 Marks & Spencer was the ideal one-stop shop for our Sunday best refresh, because they have really affordable finds for the entire family! We're all about easy these days and Marks & Spencer makes easy look totally gorgeous-without breaking the bank!
Sign me up for all the monochromatic outfits. Always. I love that this is actually a top and separate skirt, because it's nursing friendly, but that it goes together so perfectly that it kind of looks like a dress! The top is super light and so classic that's it's easy to pair with this skirt for church or brunch, but would also look gorgeous with a pair of jeans and booties for a night out with girlfriends or your man! It just sold out but this top is a similar pick that would perfectly complete this outfit, and it's only $38!
This midi skirt is SO comfortable and has the perfect amount of stretch to where do you don't feel restricted. Between that and the full skirt I can chase after my little monkeys all day! It's a super versatile skirt that can be dressed up or dressed down. And IT HAS POCKETS!
I've always been a fan of the cross body bag, because being hands-free is always preferred! And now with THREE littles in my life, being hands-free is more important than ever! This pretty little bag is the perfect size for all your essentials and the fold-over top keeps everything secure!
This is a great, super affordable nude heel AND it's comfortable! It actually has some super cushy padding that gives them a 5/5 comfort in my book for heels. That's a major win-win. They're tall enough to elongate your legs and give you that little extra height without getting too crazy!
Long-Sleeve Shirt(similar here)
Midi-Skirt
Platform Shoes
Cross Body Bag
Photos by Arielle Levy
We picked out some of our Sunday best favorites for the entire family from Marks & Spencer. These super stylish and affordable options are perfect for everything from church to brunch to family pictures!