Today is a great day to 1) relax and spend time with family and friends (depending on where your state is at with social distancing), 2) take a moment to honor those that served our nation bravely and are no longer with us, and 3) take FULL advantage of some amazing Memorial Day sales!
In this post I'm sharing all the BEST things from today's Memorial Day sales, including my absolute FAVORITE swimsuit that I'm so impressed with (it's just TOO good to keep to myself!), as well as my top ten FAVORITE picks from all the sales today. And to top it all off, you'll find ALL the best places holding sales right now at the end of this post! You can save so many pennies today on some top-notch stuff. Make sure to snag everything you want before it's gone!
In a hurry? Go straight to my picks below!
Aerie Wrap Swimsuit (aka my FAVE)
Trying to find cute, flattering, affordable swimsuits can be so hard, especially when you're looking for a modest one-piece! But I'm so excited because I discovered a swimsuit that has ALL those good things AND it's on major sale today.
I've had my eye on this Aerie swimsuit for a long time, and there were just so many crazy HIGH ratings that I had to try it. Let me tell you, this swimsuit not only met my expectations, but it exceeded them! Seriously, I LOVE it so much! You're gonna want to keep reading to find out ALL about this amazing sale and why you need this swimsuit!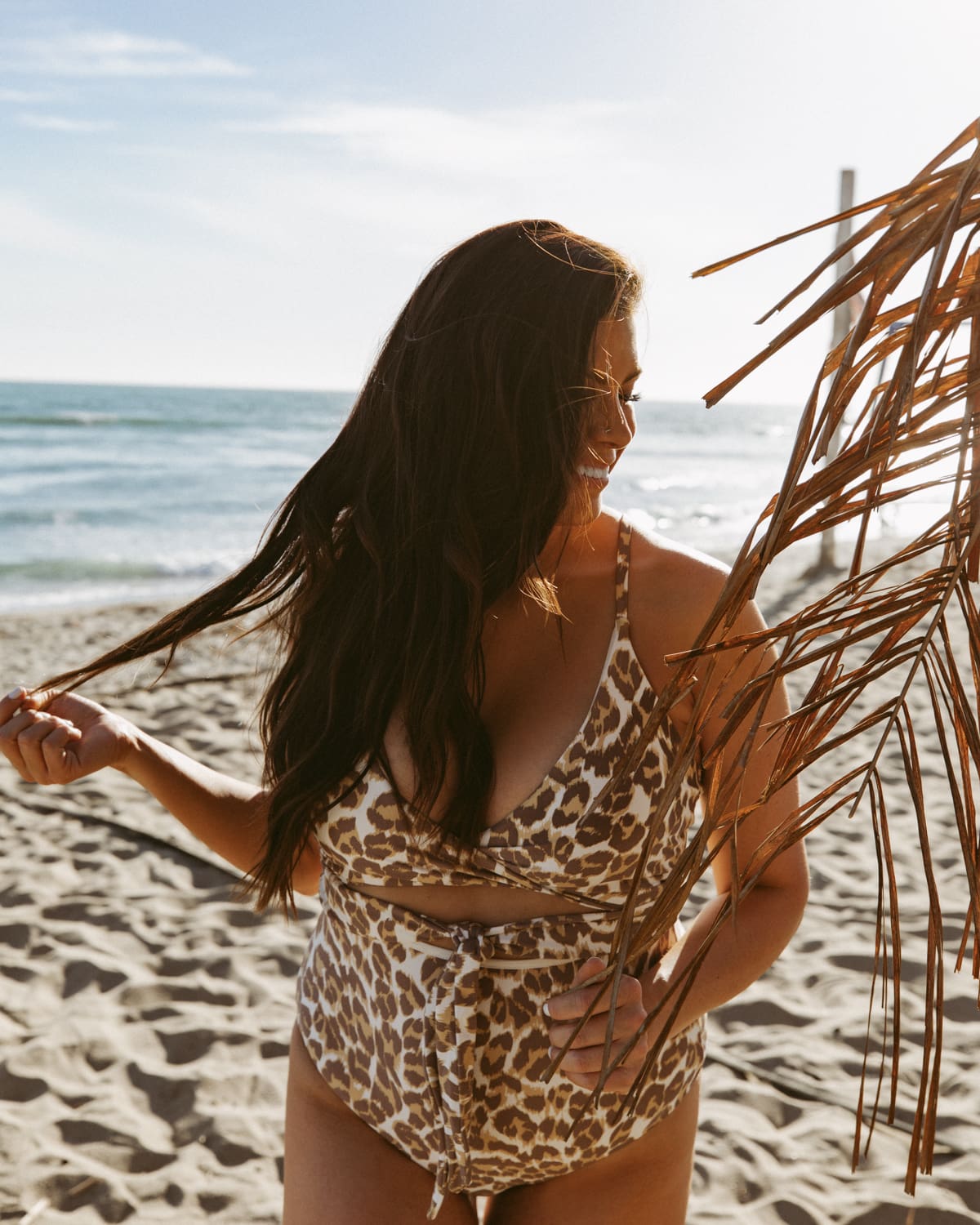 One-Piece Details
Let's dive into the details!
First of all, I was SO thrilled to find a swimsuit that I feel very comfortable in. Not only is the actual fit and feel of the fabric very comfortable, but it's also flattering and hugs and covers you in all the right places… no bum cheeks hanging out! (A definite win, right?!)
I also love how unique and different this suit is from all the other one-pieces in my closet. You can style it to make it look more like a two-piece with a high-waisted bottom, or you can wear it wrapped like I did to cover up a bit more and look like a one-piece! I think it's so fun to have that option and switch things up! Plus, there are SO many cute colors and patterns to choose from in this style – I got the leopard print in "dusty mushroom"!
Something I just LOVE about Aerie, in general, is that their whole line has very inclusive sizing. They have sizes that range from XXS to XXL, and they even have long options if you have a longer torso like me! Because it's no fun when you're shopping for a cute one-piece, but they're all just too short and ride up your bum bum. This swimsuit fits true to size. And I just can't express how much I LOOOVE mine!
Now that's a DEAL
Normally this swimsuit will cost you $54.95, but they have an AMAZING Memorial Day Sale going on for 25% off – that means you can get this adorable swimsuit for ONLY $41.21. Such a steal!! If you've already read this far and you're STILL thinking about it, just buy it and take advantage of this awesome deal!!! I promise you won't regret it, and neither will your summer plans by the beach or the pool.

TOP 10 Memorial Day Sale favorites
Adidas Animal Print Shoes: HELLO animal print trim + super affordable + a 30% OFF discount code! See our full guide to the Adidas sale (and find the discount code you need) here! When you use the code today, these shoes will ring up for only $49 (reg. $70!).
FP Cozy Cool Girl Lounge Pants: I've tried these on before and they're sooooo cozy!! $29.95 is a STEAL. Ordering them immediately.
Zella Crewneck Sweatshirt: One of my fave purchases of last year – this sweatshirt really is AMAZING!!! Stays soft forever, like that new sweatshirt feeling, except it never goes away even after tons of washes. I love this lighter color for spring/summer, too, and best of all, it's 40% off! (See our quick guide to the Nordstrom half-yearly sale here for more of my fave picks!)
3 Elemis FAVES I would stock up on from the Elemis buy 2 get 1 FREE sale: The Pro-Collagen Cleansing Balm – what I use to cleanse my skin every night. SO moisturizing and melts the makeup away like butter. Pro-Collagen Overnight Matrix – the absolute BEST feeling night cream I've ever tried. The Pro-Collagen Marine Cream SPF 30 – it has SPF 30 and PERFECT for the summer!
Express Eyelet Ruffle Top: This ruffle tee is soooo cute for summer! It's 40% off today making it only $38.40 (reg. $64). Insane deal!!
Aerie Wrap One-Piece: I already told you how much I'm in love with this suit but seriously. If you're still thinking about it, don't think about it any longer. Just get it. You won't be mad you did!
Shine Cosmetics Bundle: I tried Shine Cosmetics out for the first time (FINALLY) this past week and A) love how well their product works, B) I'm so impressed with how PERFECTLY they color matched me from a picture, and C) I LOVE what they stand for in their branding! All empowering and non-sexual names for every product they make. The Flawless Complexion Bundle that I love is ALREADY on sale, PLUS you can take an extra 10% off with code MINTARROW at checkout.
Threshold Mulberry Patio Set: I think this is SUCH a cute budget find for outdoor furniture, and it's an extra 15% off this weekend!
Anthropologie Mirror: One of my VERY favorite purchases of all time. I get asked about this almost every time someone walks into our house for the first time, even men ask me about it! It only goes on sale a couple times a year and is such a classic statement piece that you'll use forever.
Serena & Lily Salt Creek Lounge Chair: We just ordered a couple of these to enjoy on our back patio for summer and I'm SUPER excited for them to arrive! Plus they're 20% off with code DIVEIN during their site-wide Memorial Day sale.

And one big MASSIVE list of all the hottest Memorial Day deals!
Feeling grateful
Feeling very grateful for our country and the fallen soldiers and their families today who have sacrificed to give us freedom. I hope you have a wonderful Memorial Day full of gratitude, fun, and amazing deals!