You know that feeling when you slip into a pair of jeans in the dressing room and you kinda feel like you don't even need a mirror because you know they fit like a glove?! But then you look in the mirror anyway because, daaaang! Every time I put on my Good American jeans I get that feeling.
Good American jeans are that magic blend of being structured yet stretchy and always hold their shape! I love that the brand is all about body inclusivity and they boast the most incredible size range! Right now, you can get Good American jeans for up to 60% off!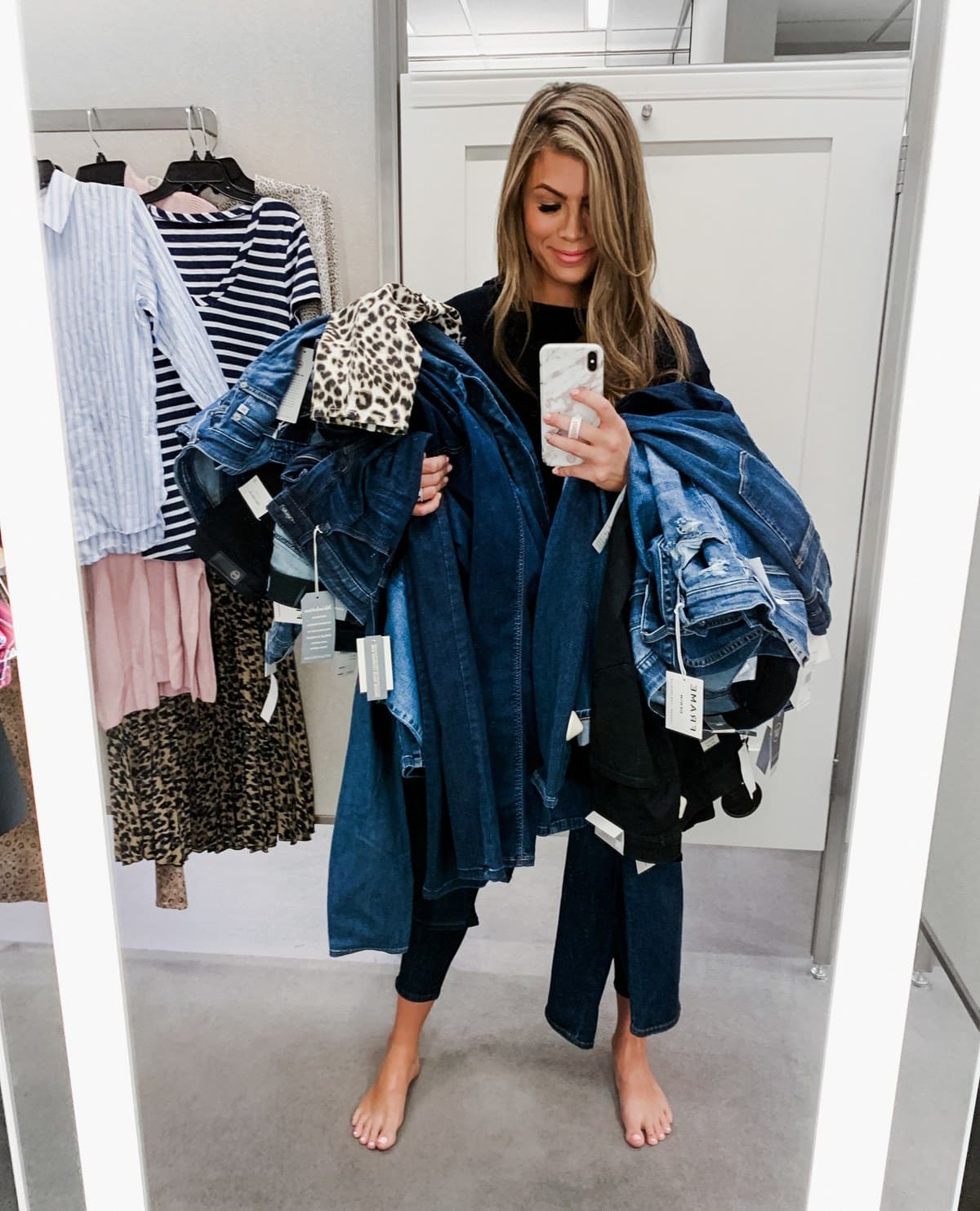 Good American sale details
Ready to get in on this smokin' hot deal?
Step One: CLICK HERE and pick out any pair of jeans that catch your eye (or ALL the jeans) that are up to 60% off!
Step Two: ADD TO CART and you'll be so happy with the price!
Step Three: wait impatiently for your jeans to arrive.
Step Four: fall madly in love with your jeans.
IT'S THAT EASY! We have no idea how long these deals will last, so you're going to want to act fast!
Keep reading for the low down on all my Good American favorites.
Good Legs High-Rise Skinny Jeans
These jeans. Fit. Like. A. Glove. I cannot stop wearing them or raving about them! Those Kardashians really know how to make a jean for girls with curves and I cannot even explain how comfortable they are! Total wardrobe staple. They're so so flattering on the legs (and the bum!) and lucky us, because these jeans are 25% off right now in black at checkout! HUGE fan of this line and that price tag!
Good American Good Flare
7th grade, 90's Corrine is jumping up and down with excitement over these jeans! These flare jeans feel soooo good. The fit is so so great, but they do run little big so size down one size. The only bummer thing: they're a little too short for 5'10" me. If you're a little shorter…please BUY a pair of Good American flared jeans!
Good Legs
My love for Good American Good Legs jeans is already well established and I'm so happy you can snag these for 25% off!! They fit SO well. They're a solid mid to high-rise and they fit like a DREAM! The bum is super flattering, they suck you right in, and you for sure want to size down one size!! These are a top contender for THE BEST designer jeans.
Run don't walk
We almost never see a deal like this on Good American jeans and more, so make sure you strike while the denim is HOT and before sizes run out!!! Get ready to change your denim wardrobe (and denim expectations) forever!