Quick Version: Use my code LTK15 to take 15% off site wide at Loving Tan!
I have tried just about everything from Loving Tan throughout the years, and it's extremely rare to get a deal on their products. Today I'm SO excited to share how you can get 15% off their entire site and there's a new product I think you'll love! So whether you're getting a pre-summer glow or want to make the whole place shimmer at the Eras Tour, let's go girls:
In a hurry? Shop my faves below:

What if ONLY the deals YOU wanted to see were in your inbox before anyone else?! If you want to be in the know and find out the hottest deals tailored just for you, you can join our subscription email here! It's simple, you tell us the deals you want to see and we'll make sure you see them first! 
How to get the best deal on Loving Tan that I've seen
Like I said, this doesn't happen often so if you know you love these Loving Tan products, definitely stock up, OR if you've been interested to try Loving Tan for the first time, this is a great opportunity!
Use my LTK in-app code LTK15 to get 15% OFF the entire site including the items I'm going to talk about!
Let's just talk about this before and after… keep in mind I did have some of a natural tan from going to the beach a couple weeks in a row before I took these, so you'd see more of a stark difference if I didn't have any tan to begin with.
Loving Tan's NEW Platinum Mousse
For me, Loving Tan is my holy grail product when it comes to a really good deep tan. I think their products work best on skin tones with a warm or red undertone. The tan I get from this new Platinum Mousse formula is way beyond a pretty bronze – this will literally make people ask where you just vacationed.
Typically this retails for $39.95, but if you take advantage of the deal you'll only pay $33.96 and save about $6 PER bottle which lasts for at least 5 applications, which breaks down to be $6.79 per application. IDK how much you'd have to pay where you live, but in SoCal it's like $40-50!
You can also get it super-sized (who doesn't love BIGGER?!) usually for $65, but with today's deal it drops to $55.20! 10 applications with this super sized bottle, and it makes each application about $5.50, so you gotta ask yourself if a perfect self-tan is worth $5 a pop. If yes (I'm like HECK YES), then this is the better deal for sure.
This allure award winning product says it's best suited for experienced tanners because it gives you the maximum results, but I think even if you're not super professional you can still use it! It only needs one coat (which is amazing) and cuts down on time.
Most tanning foams I've used take 2 layers to make it look really good so having a single layer use is amazing as a busy mom. The application goes on SUPER fast and dries faster than any self-tanner I've ever used! Overall it works beautifully.
This is their deepest, darkest shade made for the ultimate tan lover and I'd say it will give you a legit tan for a week! It has just about a perfect rating online and hundreds of amazing reviews including one who said it stayed on while she was swimming in the ocean! Now that's impressive.
While this is professional strength, don't be afraid to try this new formula – I think you'll love the deep glow it gives with a streak free application!

In a rush? There's an Express tan for you
I really like this Loving Tan product – especially if you're in a hurry or worried about product transferring to your sheets before bed – this is such a nice option to have! I don't love to sleep in this so I love to grab the 2 Hour Express Mousse and throw a loose dark robe over while doing things around the house for a few hours before rinsing.
This formula doesn't last quite as long as the original that takes 8 hours to develop, but it's meant to be a product hack where you can get a super quick bronze before an event or something last minute.
There are more than a thousand great reviews on this natural-looking product that give an immediate color. The smell of this product is super nice, but I would still recommend using moisturizer every day while having this on!
If you're anything like me with dry skin, keeping your body moisturized is super important to keep your tan looking the best it can! Typically this retails for $39.95, but if you take advantage of the deal you'll only pay $33.96 and save about $6 PER bottle which lasts for at least 5 applications!

Face so tan you'll want to take a selfie
I tried the Deluxe Face Tan again and I loved it way more than I remembered! This product will smooth and illuminate your face thanks to key ingredients like Aloe Vera, Green Tea, Pomegranate and Acai extracts, and more!
This one bottle will give you at least 10 applications which is so good for the retail price of $32.95 that you're getting for $28.01! That's $2.80 per application – yes please!
Some people also swear by a little makeup hack with this product that you can use to contour your face and let it develop darker in the areas you would bring contrast to with your bronzer or contour stick! I've never done it before, but I know people who say it's their FAVORITE beauty hack ever. That way on the days you don't want to wear a full face of makeup you'll still have a natural look that compliments your glowy body.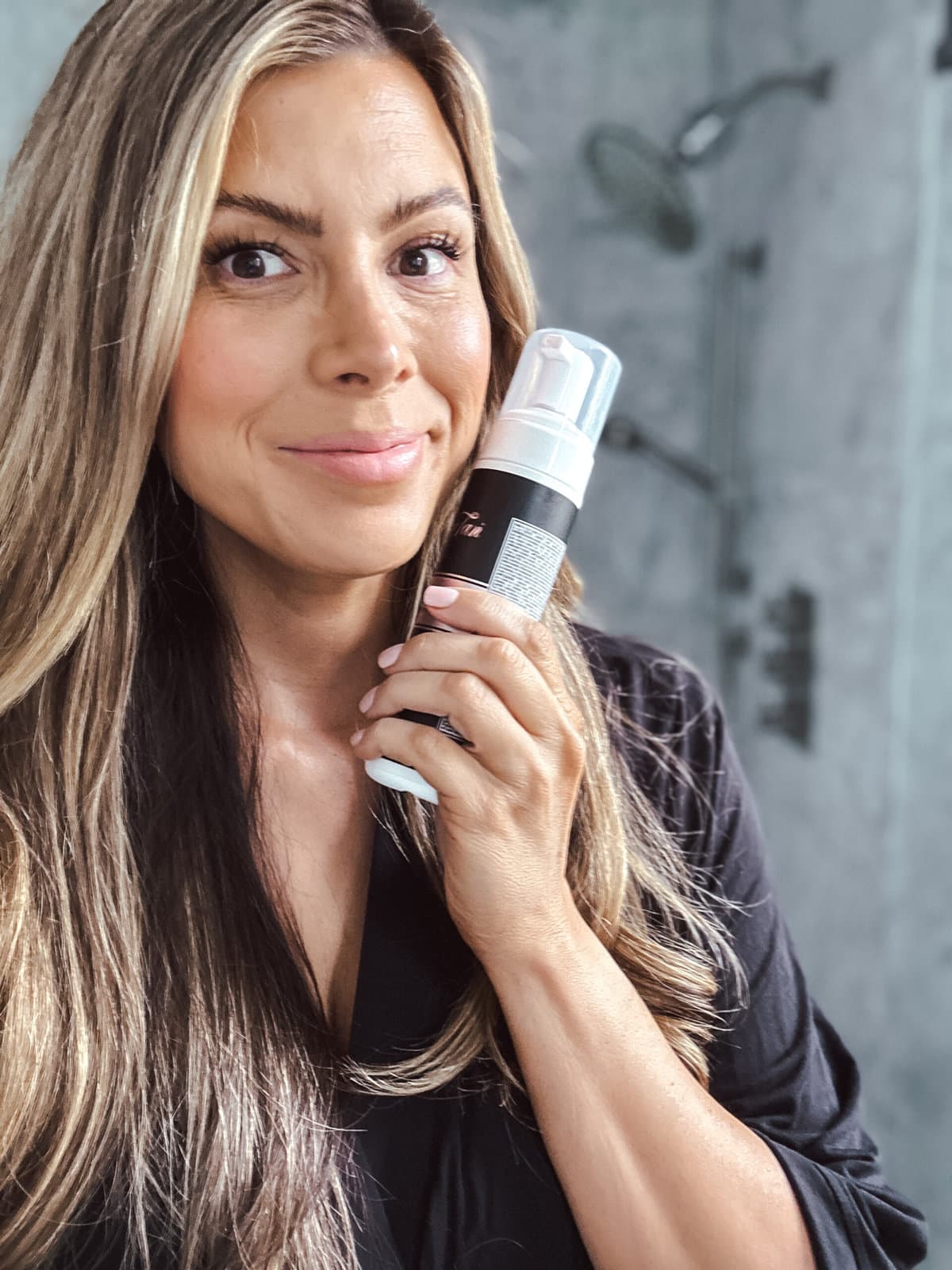 Perfect time to try Loving Tan
I think so many people hold this brand to a gold standard because it really has SUCH a good look and dramatic results that don't look fake! Results that look like you just went on vacation and I really love their quality.
If you haven't read all my tips on my Self tanner 101 blog post, you can actually find so many good nuggets on Loving Tan's new formula bottles! I loved their advice to not only exfoliate and moisturize areas like your elbows, knees, feet, and hands – but also washing your hands off after 30 MINUTES!
This definitely helps you not over-develop and gives you the best ways on how to use their products! I hope you get to use this code and snag all your favorites and try their new formula, too! If you're just getting started with tanners, I think you'll love the results that Loving Tan gives!
DON'T FORGET to use code LTK15 to get 15% off site wide at Loving Tan!!!