Quick Version: Get the iRobot Roomba E5 Vacuum Cleaning Robot for 77% off HERE with code SAVEONBRANDS at checkout!
I'm SUPER excited about this iRobot Roomba vacuum deal since it's one of my favorite home items that I use over and over again. Plus, one of the Roombas on sale today is one of the LOWEST prices we've seen in a long time. WORTH. EVERY. PENNY.
If you've been searching for a super good deal on the iRobot Roomba, THIS IS IT! Keep reading for all the deal details, and why I love this vacuum so much!
In a hurry? Shop the deal below!

What if ONLY the deals YOU wanted to see were in your inbox before anyone else?! If you want to be in the know and find out the hottest deals tailored just for you, you can join our subscription email here! It's simple, you tell us the deals you want to see and we'll make sure you see them first! 
iRobot Roomba deal details
Right now, you can get this iRobot Roomba E5 Vacuum Cleaning Robot (certified refurbished) for 77% off! That means you're getting it for only $84.99 when you use code SAVEONBRANDS at checkout! (Reg. $379.99) This is an INSANE deal on this amazing vacuum, under $85 when it's regularly close to $400!!
Not only is this amazing robot vacuum on sale, you can also get the following robot vacuums on sale today at these prices with code SAVEONBRANDS:
Is it okay to buy refurbished?
What does refurbished mean? This means that it's been opened, or a minor flaw has been repaired, but it's gone through a rigorous process to deem it ready for resale!
My experience with buying refurbished items has been flawless. I've literally never bought anything refurbished and had a bad experience – including everything from electronics to hair products. Buying refurbished is often an incredible (and super smart) way to save on an item that's a little bit of a splurge!
Roomba E5 features
If you aren't wanting to break the bank on an iRobot Roomba then this is the one for you! Here are all the amazing features you get with this magic vacuum:
Wi-Fi compatible
Learns your cleaning habits to offer up personalized schedules to automatically schedule cleaning
90 minute run time
Dual rubber brushes don't get tangled with pet hair
High-efficiency filter captures up to 99% of dog and cat allergens, and fine particles down to 0.4 micron
Up to 5X the suction
For use with iRobot HOME app
Amazon Alexa and Google Assistant voice assistant-compatible
Dirt detect sensors alert your robot about dirtier areas of your home, like high-traffic spots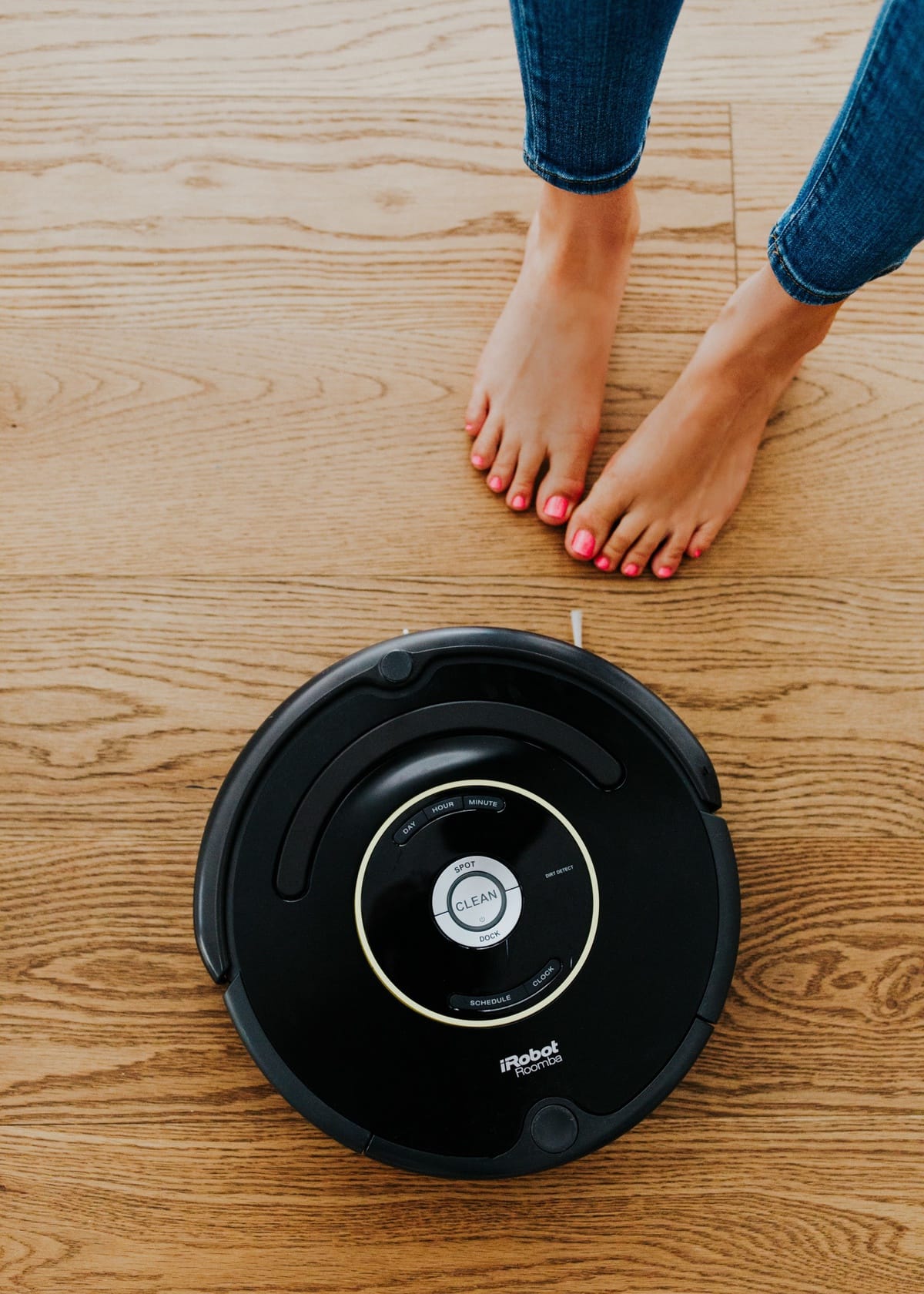 Why I love robotic vacuums
We absolutely love using robotic vacuums to help keep our floors clean, all the time! It's such a useful little household helper.
You can schedule it to run each day, or just press CLEAN and it'll automatically get to work! This vacuum would totally make a great gift for a family with dogs, or small babies who crawl around on the floor, or an older person who hates vacuuming – really, anyone!
Vacuuming is something you won't even have to think about any more! Pretty amazing, right? And even better that it's 77% OFF right now!! Such a rare deal!!
Don't miss it!
Remember, you can get this iRobot Roomba E5 Robot Vacuum for 77% off, the iRobot Roomba i3+ EVO self emptying vacuum for 57% off, or the iRobot Roomba 960 robot vacuum for 69% off – just use code SAVEONBRNADS. If you're wanting to save on a super nice robotic vacuum, then you should definitely take advantage before these deals end! I'm so excited for you to give it a try!