I'm SUPER excited about this iRobot Roomba vacuum deal since it's one of my favorite home items that I use over and over again. Plus, the Roomba on sale today is one of the BEST models. It connects to wifi & Alexa, it has a cleaning base that dumps out your vacuum for you, AND you can set "keep-out zones" so it doesn't run into the lamp or the dog's bowl while doing its job. WORTH. EVERY. PENNY.
If you've been searching for a super good deal on a really nice version of the iRobot Roomba, THIS IS IT! Keep reading for all the deal details, and why I love this vacuum so much!
Sometimes our hottest deals sell out REALLY fast, so if you want to be in the know and find out FIRST, you can join our bestie group text! And don't worry, I'll only send you the VERY hottest deals that have the highest sell out risk – PROMISE. To join the list, text DEALS to 949-506-2558
Deal details
Right now, you can get this iRobot Roomba i6 WIFI Vacuum with Cleaning Base for $200 off! That means you're getting it for only $599.99 (reg $799.99)! This specific vacuum is super hard to find on sale, so this is a killer deal!
What You Get:
Roomba i6 Robot Vacuum
Home Charging and Cleaning Base
Manufacturer's Limited 1-year Warranty

Roomba i6 features
This isn't your typical iRobot Roomba. This specific model hardly ever goes on sale because it literally has EVERYTHING you could want in a robot vacuum! Here are all the amazing features you get with this magic vacuum:
Wi-Fi compatible
Dual multi-surface rubber brushes
Smart navigation allows you to clean specific rooms or areas
Create custom keep-out zones to avoid specific areas
High-efficiency filter captures up to 99% of dog and cat allergens, and fine particles down to 0.4 micron
Up to 10X the suction of the Roomba 600 series vacuum
Automatic Home Base return when battery is low; vacuum picks up where it left off after charging
For use with iRobot HOME app
Google Home and Amazon Alexa voice assistant-compatible
Built-in lithium-ion battery
Automatically empties your Roomba robot's bin – you don't have to think about vacuuming for weeks at a time! Holds 60 bins of dirt, dust, and hair. Uses enclosed, disposable bags for easy disposal without the cloud of dust. (Amazing!!!)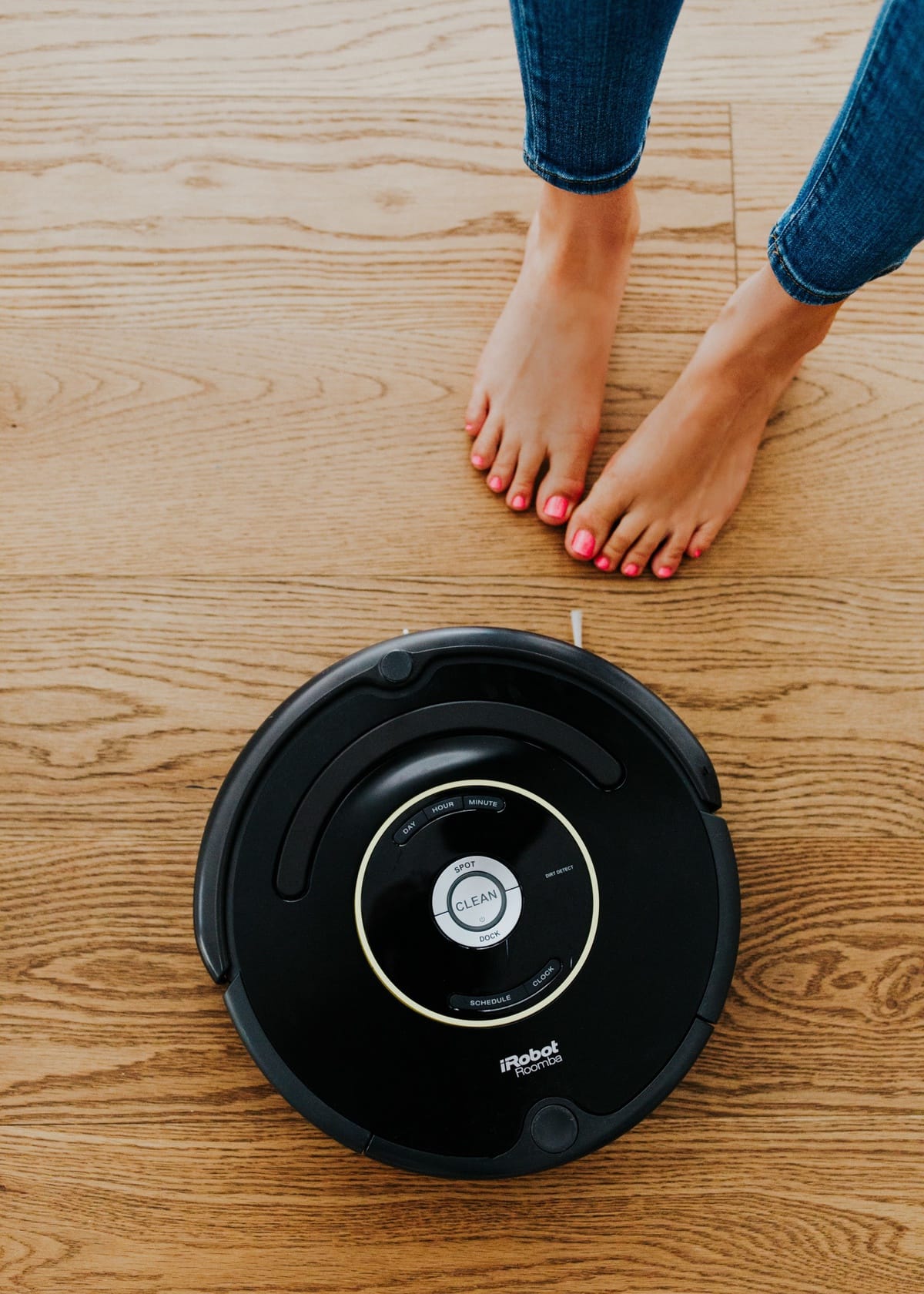 Why I love robotic vacuums
We absolutely love using robotic vacuums to help keep our floors clean, all the time! It's such a useful little household helper.
You can schedule it to run each day, or just press CLEAN and it will automatically get to work! This vacuum would totally make a great gift for a family with dogs, or small babies who crawl around on the floor, or an older person who hates vacuuming – really, anyone!
Especially since this version of the iRobot dumps its dust for you – vacuuming is something you won't even have to think about any more! Pretty amazing, right? And even better that it's $200 off right now!! Such a rare deal!!
Don't miss it!
Remember, you can get this iRobot Roomba i6 WIFI Vacuum with Clean Base for $200 off! That means you're getting it for only $599.99 (reg $799.99). If you're wanting to save on a super nice robotic vacuum, then you should definitely take advantage before the deal ends! I'm so excited for you to give it a try!