It's super late in Hawaii but I can't even sleep because the NORDSTROM ANNIVERSARY SALE just opened to the public!!! I have been dying to stock up on some of the items that sold out SUPER fast during the presale but as of this moment in time, Nordstrom's site still hasn't updated with many of the items that I'm hoping will restock!
(**UPDATE: here's where you can find all my details for the 2017 Nordstrom Anniversary Sale and this year's Nordstrom Anniversary Sale catalog!)
If you guys wake up to this before I do you have to do me a favor and check to see if the items from this favorite FALL look have been restocked! Everything (and I mean EVERYTHING) in this outfit is on the super affordable end of the spectrum for the Nordstrom Anniversary Sale, and that's probably why most of it sold out during the presale!
Lace top // faux leather jacket // boyfriend jeans (only $44.90!) // tan satchel // felt hat // laser cut booties
I'm telling you right now that these little laser cut booties are some of THE most comfy booties I've ever worn!! They're such a pretty color for fall but because they're laser cut you can start wearing them NOW if you want. They sold out in every size but 11 during the presale and they are one of the only things that HAVE been fully restocked since the sale kicked off tonight! Get em while you can.
Also a ton of my readers who are fellow Alex & Ani freaks have asked me if A&A will be part of the sale and the answer is YES!!! These Alex & Ani bangles are so cute and a super good deal!! I have the Tassel Bracelet in gold and the set of 2 in gold, but I think the wrap bracelet is so fun too!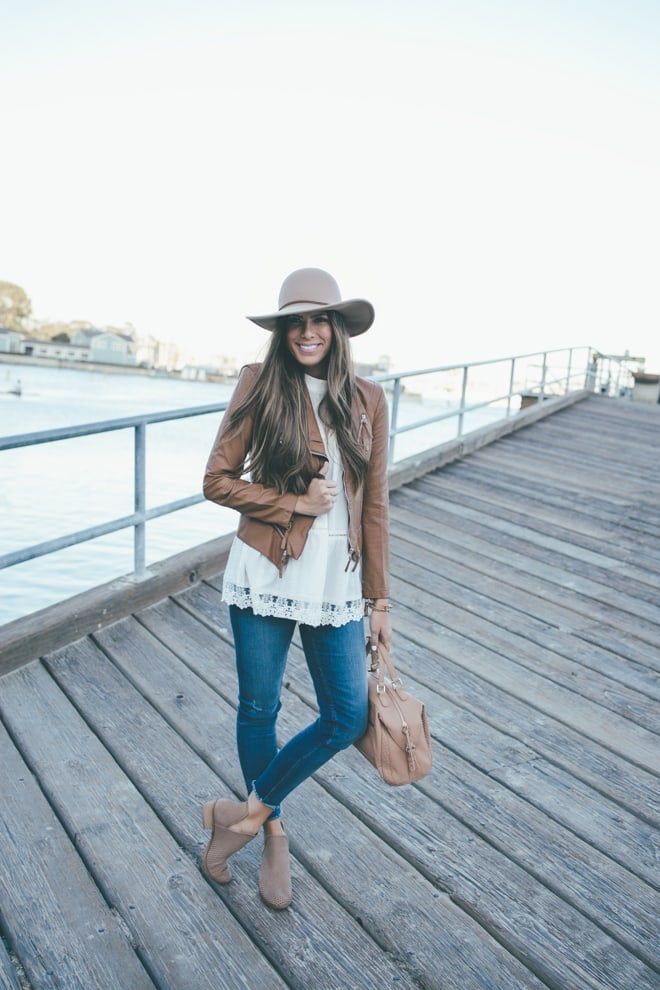 I'm also pretty much obsessed with this tan satchel that's only $45.90!!! That is such a good price for a bag that size. I see myself using this a lot this fall as a go-to neutral!
One last thing – you cannot go into fall without a good felt hat and this one is a steal at $28.90 (it will go up to $48 after the sale)! This is your answer to every bad hair day. Yup.
Here are some of the other items that are in stock as of this moment that I'm IN LOVE WITH from the Nordstrom Anniversary Sale!
The cutest and best things are bound to disappear really quickly, so even if you're going to shop the sale in-person, you can buy your favorite things that you're worried about selling out NOW and have them ready to pick up in store so that you make sure your favorite color and exact size are there waiting for you!
Check out my other posts about the Nordstrom Anniversary Sale here:
Workout/weight loss tips & the leggings your legs NEED
Dress up staples from the Nordstrom Anniversary Sale
Sell out faves of the Nordstrom Anniversary Sale
The best MEN'S deals of the Nordstrom Anniversary Sale
The best BABY deals of the Nordstrom Anniversary Sale
Nordstrom Anniversary Sale Snapchat Favorites!