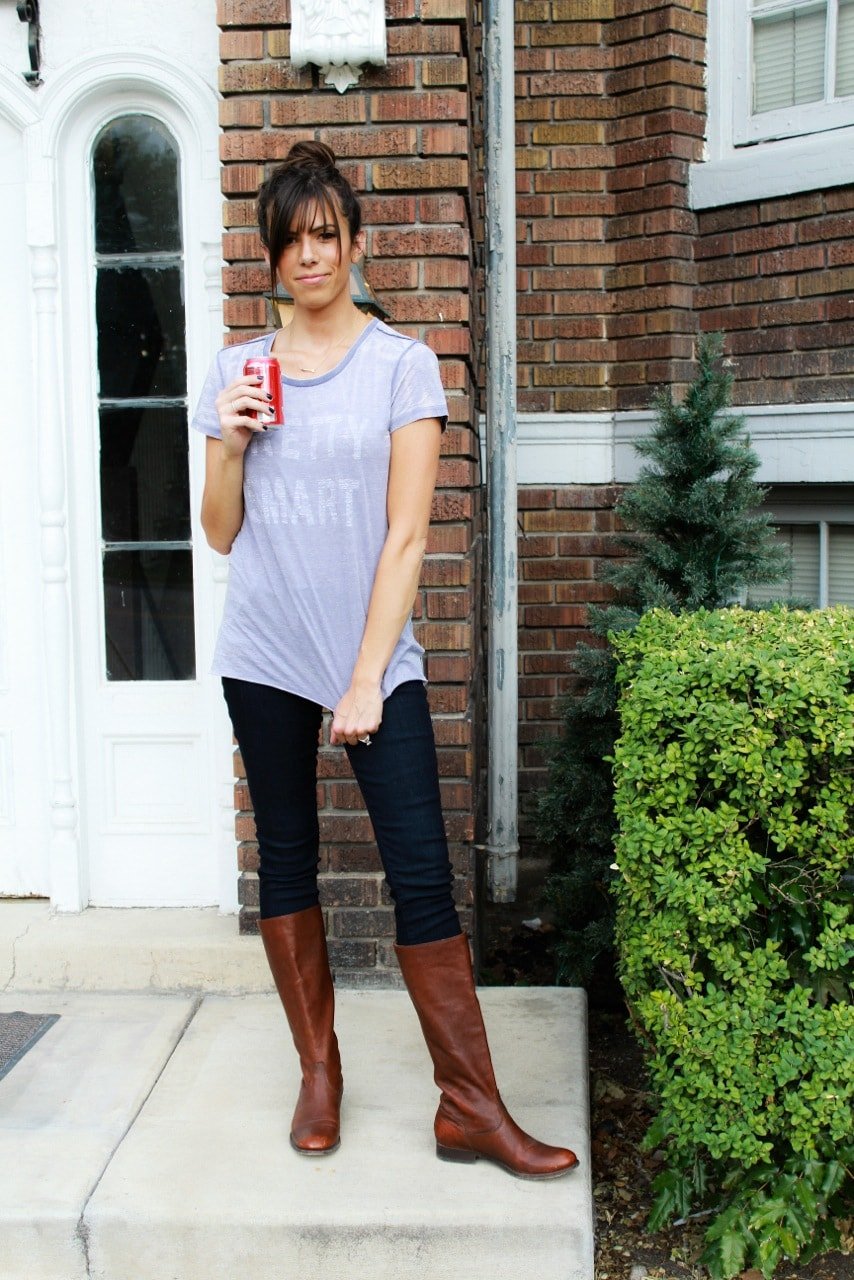 i know a few people were way bummed to miss out on the frye boot sale last week when the code expired + some of the sale prices increased since the post, so i'm WAY excited to bring you another promo today that's just as good and even BETTER in some cases than last week!
TODAY ONLY you can get 3o% off these select frye boots and bags with code GRNMON14 at checkout. there are 466 frye boots and bags included in this sale! AMAZING right?!
if you go to THIS PAGE you can search all the frye boots that are eligible for the extra 30% off and search by your specific size!
the FRYE Women's Melissa Button Back Zip Knee-High Boots that i am wearing in the picture above are already marked down 21% off at $289.64 in dark brown smooth vintage leather (i'm wearing the brown antique soft vintage) but when you apply the promo code GRNMON14 they drop to $202.75, which is 45% off the original price of $367.50!
there's an even better deal on the FRYE Women's Melissa Button Boot in grey antique soft leather. they're already marked down to $239.20 but with the code GRNMON14 at checkout they drop to $167.44!!! that's 55% off the original price of $367.50. these will sell out really fast after i post (i'm guessing!) so if you want them jump on them!
and this WAY cute FRYE Vintage Stud Tote Handbag in grey is already on sale for $241.39 but with the promo code GRNMON14 it drops to $168.97 – that's 52% off the original price of $347.95!!! my mom has a frye bag and she LOVES it! she is always telling me how happy she is she bought hers – and she paid full price!
one last thing – a bunch of people asked last week how i care for my frye boots and i use this awesome FRYE Leather Conditioning Cream! it's only $9 and does a great job of keeping your fryes nice even through rough weather.
you can shop all the FRYE boots and bags on sale and eligible for the extra 30% off here. this deal ends today!