It's my last day of blogging in 2016 and I thought it would be so fun to show you guys the MOST popular items that you all loved from 2016! It was such a fun year with so many highlights.
Without further ado, here are the greatest hits of 2016:
MOST POPULAR JEANS:
These ripped black jeans were the most popular pair of denim that I blogged about in 2016! They're super well priced at $70 and seriously have the most perfect distressing – just a clean rip at the knee! The fit is extremely comfy and flattering so it's the pair of jeans I think every girl needs. Size up 1 size!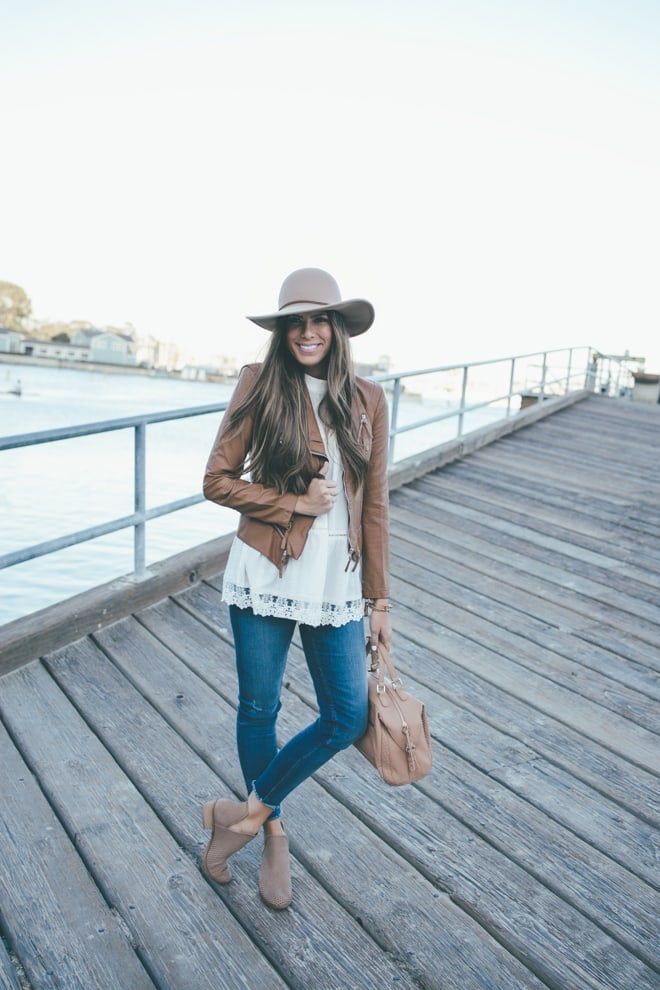 Lace top // faux leather jacket // boyfriend jeans (only $44.90!) // tan satchel // felt hat // laser cut booties
MOST POPULAR BOOTIES:
These laser cut booties were the top selling bootie of the Anniversary Sale this past summer and they're back in stock!! They are EXTREMELY comfy, like I can walk around all day at Disneyland in these comfy, and super cute! I get compliments every single time I wear them. I'm wearing the Brindle leather color above, which is in stock in every size AND 30% off right now!

Perfect white v-neck tee // Green drape jacket // Casual cozy flare jeans // Pink sneakers // Tan backpack
MOST POPULAR TEE:
This white tee is my go-to, and it comes in so many colors AND it's under $20!
MOST POPULAR HAIR TOOL:
The Beachwaver curling iron takes the cake in this category! Most popular item BY FAR on my blog this year in the beauty category. It makes curling your hair so much faster, easier, and your curls last so much LONGER because the beachwaver is so efficient at curling tightly. I. AM. OBSESSED. I used the 1″ beachwaver in this photo and I think that's the most versatile size, but I also love the 1.25″ beachwaver if you like looser beach waves, and the .75″ beachwaver if you want beyonce-like super tight curls that turn into waves and last for DAYS (what I used in our family photos this year!). On sale here right now with code FIREWORKS at checkout!

Black Midi Dress // Black Strappy Heels // Leopard Clutch // Pearl Earrings // Sunglasses
MOST POPULAR LBD:
This little black dress was your guys' fave for good reason!! It's affordable (under $100), SUPER comfy (feels like pajamas) and ultra flattering. You can dress this baby up OR down. Also, the strappy heels that I love SO MUCH from this outfit are now half off!
MOST POPULAR SWIMSUIT:
This black one piece swimsuit is my favorite and yours too! For sure one of the most popular things I talked about in 2016. This swimsuit is extreeeemely flattering, comfy enough to wear all day, and has a super cute back too! I'm wearing a size 6 (my normal size) here so I think you're okay to order your normal size even though it says to size up!
MOST POPULAR BRA:
Look, I will not be posting a photo of myself in my bra (ha, sorry!) but this natori feathers bra was the MOST popular bra of 2016 and my very favorite! It's super comfy, has a flattering shape, and I can wear it all day without it bothering me! They happen to be on MAJOR SALE today right here!
MOST POPULAR BAG:
Funny enough (but no surprise!) your favorite handbag (mine too) was the tried and true hobo wallet. It's the world's GREATEST wallet and it's on sale right now in a couple really pretty neutral colors.

(master bedroom details here)
MOST POPULAR PJS:
Even after all of the posting about our favorite Christmas jammies (because we have a serious obsession with jams here) these soft jammies were STILL the most popular pajamas I posted about in 2016! They're so so so comfy, long enough for my 5'10" frame, and they look good after dozens of washes. The pink stripe are sold out but they're still available in several cute colors.

Red and white stripe button-up tee // Distressed white jeans // Chuck Taylor sneakers // Tote bag (ON SALE)
Russian red lipstick
MOST POPULAR LIPSTICK:
And finally, the most popular lipstick here in 2016: MAC russian red! It's the red lippy that looks good on literally EVERYONE. I was deathly afraid of red lipstick and 2016 was the year I switched over and embraced the power of a red lip! You will love it too, I promise!
p.s. I know a LOT of the items linked under the photos are sold out (SO SORRY!) but I put them there because I know a lot of people will ask if I don't! 🙂
One last time, the GREATEST HITS of 2016!!
Thanks for such a great year, and for being so supportive and making this job FUN. I really love serving my audience – you guys are all the kindest, most gracious, fun, loyal readers a girl could ask for. I can't wait to see what 2017 brings!