do you guys have a favorite thing that you order every time you go to a restaurant? i totally do. in fact i have many. maybe that makes me super boring! but i mean, when you know you love something, it's hard to stray from that one true love.
that's how i feel about these rag & bone boyfriend jeans. i've never, ever put on another pair of boyfriends that i love as much as these. last year's wash for the anniversary sale is where i first fell in love, and i fell hard. i bought that pair and wore it to death and hoped and prayed that it would come back again this year and basically all my dreams came true when i saw that YES indeed they were part of the sale again.
*important sidenote: these are definitely true boyfriend jeans, so size down 1 size for the best fit!
they go perfectly with what i like to call the momiform. comfy sweatshirt or tee, jeans, some type of flats, and really great sunnies and a pretty bag to feel pulled together while wearing a uniform that allows you to chase down children who act like wild animals. not that i have a child like that (kidding – i totally do).
as if the jeans weren't enough, i'm obsessed with these flats, pink bag, and the softest sweatshirt i think i've ever worn in my life! ALL ON SALE – thank you nordstrom.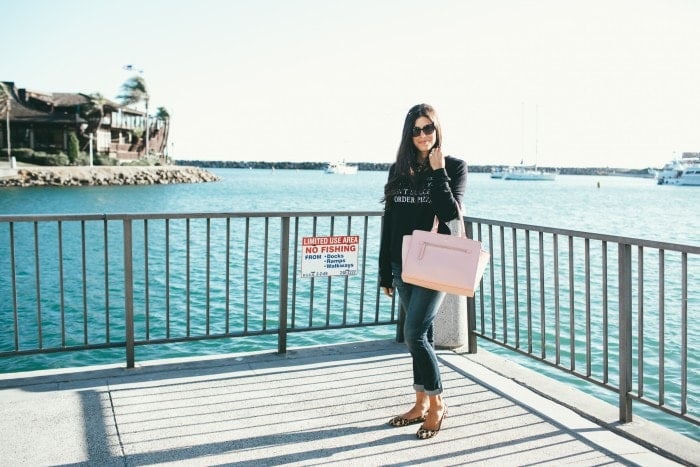 and yes, i totally believe in this cooking rule.
sweatshirt // boyfriend jeans // leopard flats // pink bag // sunnies
photos by emmy lowe photo
these were all part of my nordstrom anniversary sale favorites in clothing and shoes for women! here are all my nordstrom anniversary sale guides in one place:
nordstrom anniversary sale women's clothing and shoe favorites
nordstrom anniversary sale women's intimates and office favorites
nordstrom anniversary sale men's favorites
nordstrom anniversary sale baby favorites
nordstrom anniversary sale beauty favorites
the winners of our 3 nordstrom gift card giveaway are:
jessica ellingsworth
caitlyn huffman
angela brown
winners, please email corrine@mintarrow.com with the email address you used to enter the giveaway within 24 hours to claim your prize!