because well, our girlfriends are what get us through life sometimes right?! but at the same time we're all chasing after some obscure little toy our kids want or wracking our brains for a gift to the totally un-giftable person (that gift guide coming soon!), i've got you covered in the girlfriend gifting department. small  but perfect little presents for your besties that nobody will even be tempted to re-gift!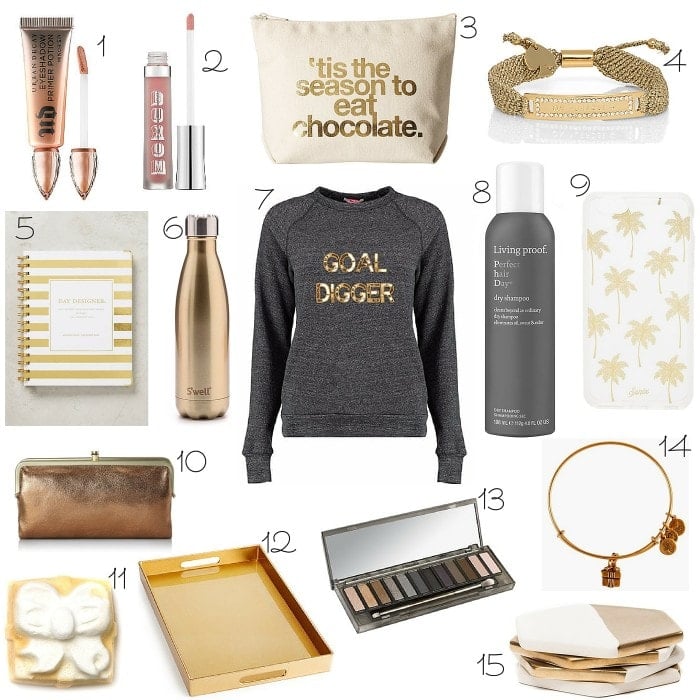 1. urban decay primer potion – minor sin: my favorite primer in the updated version with the little wand! $20
2. buxom lip gloss in white russian – my FAVORITE gloss ever, in the most perfect nude shade ever! $19
3. tis the season to eat chocolate pouch – the perfect little makeup bag, and it even fits a naked palette! $28. i also love the stash pouch pictured at the top, $34.
4. on purpose pave friendship bracelet – i just gave one to my friend last week and she cried when she opened it. so much meaning behind this sweet gift, it helps women provide for their families while rebuilding a community in rwanda!  $48
5. gold stripe planner – for the organized girl who likes to be old school and write everything down! $20
6. s'well bottle – my FAVORITE water bottle! stays cold for up to 48 hrs, warm for up to 24 hrs! $35
7. goal digger sweatshirt – for your girl-boss girlfriend! $58
8. living proof dry shampoo – for your bestie who loves a new beauty product, my new favorite dry shampoo! $12-22
9. gold palm tree phone case – because who hates palm trees?! $35
10. hobo lauren clutch – my FAVORITE WALLET EVER. sorry i'm a broken record on this one but it really, really, really is. my. favorite. 30% off w/ code BAGSNMORE, $76.26 total (reg $110)
11. lush bath bomb in golden wonder – one of my guilty pleasures! bath bombs are just heaven sent. $6.95 or i also love stardust for $5.25
12. golden tray – for your girlfriend who's always hosting the parties! $14.99
13. urban decay naked smoky palette – for the girl who always has good makeup! or for the one who's afraid to try something new. this one comes with the coolest little smokey eye tutorials. $54
14. alex & ani gift box bracelet – i'm personally obsessed with these and can never get enough! a cute way to thank a girlfriend for being a gift in your life. $28
15. gold dipped ceramic coasters – for anyone, really! $28
hope this helps you shop for some of the girls who mean the most to you!