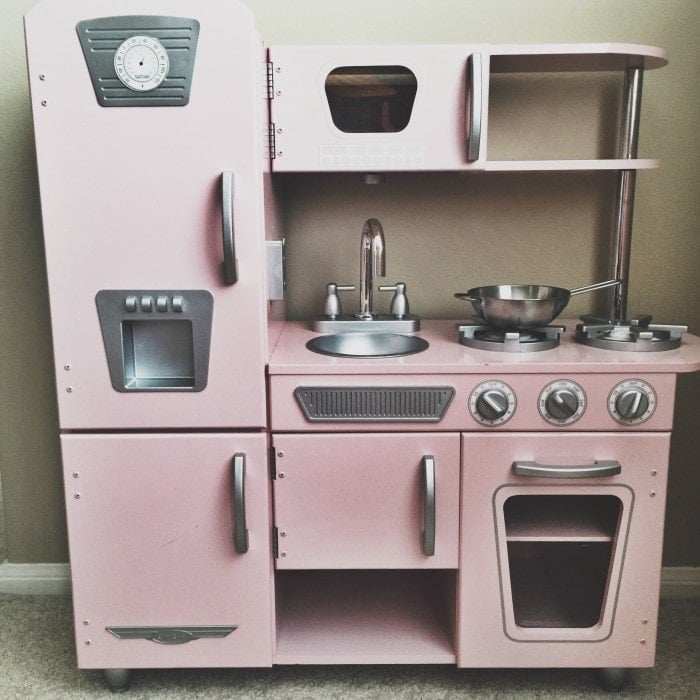 Well this is a great way to start off a November weekend!!! A deal on a kidkraft vintage kitchen, one of the most loved and played with toys in our home that I have people beg me to find a deal on is on sale for a price even better  than Black Friday. And don't worry if you don't want pink, this better than Black Friday deal on a kidkraft vintage kitchen comes in two colors!!
Right now you can get the Kidkraft Vintage Kitchen in Red or Pink here
 for $87! 
I have no idea how long this deal will last – it could last a week or the price could go up 10 minutes after I post this, so hurry!!!
I have honestly never seen a kidkraft vintage kitchen priced this low, EVER.
Regular retail for this kidkraft vintage kitchen can run over $200 (see here) so I typically look for deals around or just under $100 during this time of year, so yeah. This really is an amazing deal!!! If I were looking for a kidkraft vintage kitchen deal this holiday season, I'd buy this Kidkraft Vintage Kitchen in Red or Pink
 NOW.
My girls absolutely love their Kidkraft Vintage Kitchen and it honestly does get played with  more than almost anything else we own. I often get asked what they like to use with this and we really like the pots and pans from ikea and this set of play food!
One little warning: this kidkraft vintage kitchen is an absolute beast to put together, so don't start assembling at 11 p.m. on Christmas Eve thinking it will take you an hour, because it will take you at least 3. Neil is pretty handy and I am pretty sure it took just under 3 hours for him to put together. Just put your kids down and get started right away!
Again, not sure how long this Kidkraft Vintage Kitchen in Red or Pink for $87 deal will last so get it now before it disappears!!